Women of Star Trek Lenticular Cards
In March 2000, Rittenhouse Archives launched it's second In Motion set,
The Women of Star Trek In Motion
, the first-ever Star Trek card series devoted completely to the unforgettable women of Star Trek. This ground breaking set featured
32 different cards
in its base set, plus 5 different levels of chase cards. Each card in the series measures 3½" x 5¼" and featured a lenticular (or motion) sequence. The Women of Star Trek In Motion was limited to 5,000 sequentially numbered boxes and each box contained 20 packs plus one Archive Collection bonus pack. Also included with each box was one Sound In Motion card and an authentic autograph card.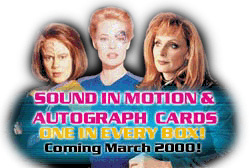 Each standard pack contained 3 lenticular cards and each Archive Collection packs contained 3 foil-stamped and sequentially-numbered cards that measure 5" x 7" and were limited to 999 cards each. Also be sure to look for 4 randomly inserted Gold Archive Collection cards, limited to 500 sequentially-numbered cards. A custom album was also available, complete with plastic sheets to house the entire set.