Star Trek began in the early 1960's as an idea in the mind of Gene Roddenberry, a World War II veteran and former L.A. policeman who had become an established television writer/producer and was determined to bring his vision of a serious, thoughtful science fiction drama to the air. Pitched as "Wagon Train to the stars," Star Trek, after a few false starts, became a reality in 1966 in primetime on NBC.
40 Years later, four more television series, 10 theatrical movies, hundreds of books and magazines, and innumerable Internet fan sites Star Trek Lives on. This November, Rittenhouse Archives will release
Star Trek: The Original Series 40th Anniversary Trading Cards
covering the first season of the show that started it all as well as the original pilot "The Cage".
Each box of this set will feature 2 Autograph Cards in the fan favorite classic design. Signers for this commemorative set include:


• Joan Collins as Edith Keeler
• Kathryn Hays as Gem
• Majel Barrett as Number One
• Bobby Clark as The Gorn
• Ned Romero as Krell
• Carl Held as Lindstrom
• Jason Wingreen as Dr. Linke
• France Nuyen as Elaan
• Kate Woodville as Natira
• David Soul as Makora
• Peter Duryea as Navigator Jose Tyler
• Beverly Washburn as Lt. Galway
• Paul Comi as Lt. Andrew Stiles
• Dick Durock as Elasian Guard
• Brian Tochi as Boy

• Leonard Nimoy as Mirror Universe Spock
• Geroge Takei as Mirror Universe Sulu
• Robert Walker, Jr. as Charlie Evans
• Laurel Goodwin as Yeoman Colt
• Marianne Hill as Dr. Helen Noel
• Emily Banks as Yeoman Tonia Barrows
• Lawrence Montaigne as Decius
• John Crawford as Commissioner Ferris
• Bruce Hyde as Lt. Riley
• Malachi Throne as Voice of The Keeper
• Mary Rice as Young T'Pring
• Richard Compton as Washburn
• Victor Lundin as Klingon Lieutenant
• Garrison True as Crewman
• Sheldon Collins as Tough Kid

| | |
| --- | --- |
| | Collectors should also be on the look-out for what is sure to be one of the most sought after autograph cards in this series, a cut-signature card featuring an authentic signature from show creator Gene Roddenberry. Only 25 cards exsist and each card is individually number. |
Rounding out the chase cards are several exciting sets including :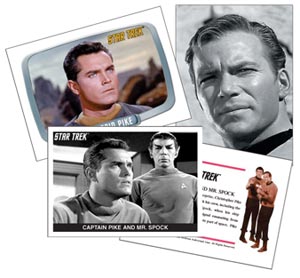 18 The Quotable Star Trek: Original Series Expansion Set (1:10 Packs)
9 Captain Pike (1:14 Packs)
6 The Faces of Vina (1:20 Packs)
18 Star Trek Portraits (1:40 Packs)
18 1967 Star Trek Expansion Set - "The Cage" (cards #73-90) (1:40 Packs)
7 Bridge Crew Delta Shield Patch Cards (1:200 Packs) - Each Card Sequentially Numbered to 333
For every two cases purchased of
Star Trek: The Original Series 40th Anniversary Trading Cards
you will receive an Exclusive Grace Lee Whitney (Yeoman Rand)/Quotable TOS Autograph Card. For every six cases purchased you will receive an exclusive Leonard Nimoy (Spock) Autograph Costume Card!
Fans and collectors will also be able to store their collection in a custom designed collector's album which contains an exclusive autograph card of Walter Koenig as Mirror Universe Chekov and an exclusive promo card.