SEASON FOUR TRADING CARDS
Rittenhouse Archives is pleased to once again bring collectors the next exciting stage in Star Trek trading card collecting with
Star Trek Enterprise Season Four Trading Cards
. Each box will contain 40 packs with 5 cards per pack. The 72-card base set will cover all 22 season-four episodes with complete plot synopses and exciting imagery.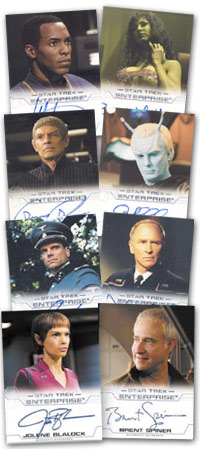 Again, we are happy to present collectors with
TWO AUTOGRAPH CARDS PER BOX!
Rittenhouse has done it again by bringing collectors what they want and that is top signers on an
all-new
autograph card design. This year's set includes autographs from show stars Jolene Blalock (T'Pol), Linda Park (Ensign Hoshi Sato) and Anthony Montgomery (Travis Mayweather). Rounding out the autographers are numereous recurring guest stars including:
Brent Spiner as Arik Soong
Vaughn Armstrong as Admiral Maxwell Forrest
Gary Graham as Ambassador Soval
Jeffrey Combs as Commander Shran
J. Paul Boehmer as SS Officer
Bill Cobbs as Emory Erickson
Kara Zediker as T'Pau
Steve Schirripa as Carmine
Kaj-Erik Eriksen as Smike
Richard Riehle as Jeremey Lucas
Bobbi Sue Luther as Orion Slave Girl
Brian Thompson as Valdore
Alec Newman as Malik
Bruce Gray as Surak
with more autographers to be announced in the coming weeks.
As an added bonus, each box will also contain 1 COSTUME CARD PER BOX! We have acquired a fantastic line-up of costume cards for this series including:
T'Pol's Desert Uniform
T'Pol's Wedding Dress
T'Pol (Mirror Universe) Uniform
Travis Mayweather's (Mirror Universe) Uniform


Captain Archer's (Mirror Universe) Uniform
Malik's Shirt
Degra's Shirt


Silik's Suliban Jumpsuit
Daniels' Timetravel Uniform
Lieutenant Talas' Andorian Uniform Top
Lieutenant Talas' Andorian Uniform Pants
Persis' Shirt
Raakin's Shirt
Soval's Over Robe
Also randomly inserted into boxes of the Star Trek Enterprise: Season Four Trading Cards will be several exciting bonus sets, including Genesis cards, In a Mirror cards and Archer In Action cards. The 9-card dual-sided Genesis cards, found one in every 20 packs, will showcase the evolution of characters, events, and alien races from Archer's time to Kirk's time, including the Orions, Klingons, Andorians, Tellarites, Tholians, the Gorn, Surak and more! From the other side of reality, comes In a Mirror, a 9-card aset focusing on the crew of the Mirror Universe Enterprise. Rounding out the chase sets is a 9-card Archer In Action set found one per box.
Each case of Star Trek Enterprise: Season Four Trading Cards will also include an exclusive dual-costume card case topper featuring Brent Spiner as Arik Soong's Shirt and Jacket.
Fans and collectors will also be able to store their collections in a custom designed collector's album which contains an exclusive autograph card of Lee Arenberg as Gral and an exclusive promo card.