2 Autograph Cards and
2 Relic Cards Per Box!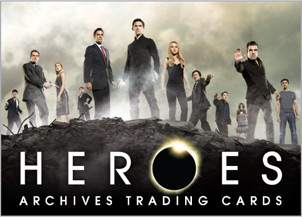 Partial list of Autograph Cards include the following signers:
Hayden Panettiere (Claire Bennet)
Adrian Pasdar (Nathan Petrelli)
Greg Grunberg (Matt Parkman)
Jack Coleman (Noah Bennet)
Sendhil Ramamurthy (Mohinder Suresh)
Kristin Bell (Elle Bishop)
Malcolm McDowell (Linderman)
Jessalyn Gilsig (Meredith)
Richard Roundtree (Charles Deveaux)
James Kyson Lee (Ando)
Zeljko Ivanek (Emile Danko)
David H. Lawrence (Doyle)
Jimmy Jean-Louis (The Haitian)
Madeline Zima (Gretchen)
Cristine Rose (Angela Petrelli)
And Many More to be announced soon!
More details coming soon!