THREE AUTOGRAPH CARDS INSIDE EACH BOX!
AUTOGRAPH SIGNERS INCLUDE:
Rachel Nichols (Kiera Cameron)
Victor Webster (Carlos Fonnegra)
Erik Knudsen (Alec Sadler)
Stephen Lobo (Matthew Kellog)
Roger Cross (Travis Verta)
Tony Amendola (Kagame)
Omari Newton (Lucas Ingram)
Brian Markinson (Inspector Dillon)
Michael Rogers (Roland Randol)
Terry Chen (Curtis Chen)
Luvia Peterson (Jasmine Garza)
Jennifer Spence (Betty Robertson)
Janet Kidder (Ann Sadler)
Caitlin Cromwell (Elena)
Lexa Doig (Sonya Valentine)
William B. Davis (Older Alec Sadler)
Mike Dopud (Stefan Jaworski)
Richard Harmon (Julian Randol)
Ian Tracey (Jason Sadler)
Tahmoh Penikett (Jim Martin)
Magda Apanowicz (Emily)
Nicholas Lea (Agent Gardiner)
Catherine Haggquist Lough

(Inspector Nora Harris)

Hugh Dillon (Stan Escher)
Zak Santiago (Agent Miller)
Adrian Holmes (Agent Warren)
Tanaya Beatty (Rebecca)
Rachel Crawford (Catherine)
60-Card Base Set, featuring plot synopses for all 13 season three episodes, and biographies of more than 20 different characters.   PLUS - 60 numbered GOLD base parallel cards,
7 Continuum Star Cards, 9 Behind-the-Scenes and 18 Continuum Quotable Cards.
SEASON THREE INCENTIVE PROGRAM:
For every 2 cases ordered, receive an exclusive relic card featuring Kiera's BLACK Polymeric Nano-Suit!
For every 4 cases ordered, receive an exclusive Silver Signature Autograph Card signed by Rachel Nichols!
For every 12 cases ordered, receive a factory-sealed CONTINUUM: Seasons 3 Archive Box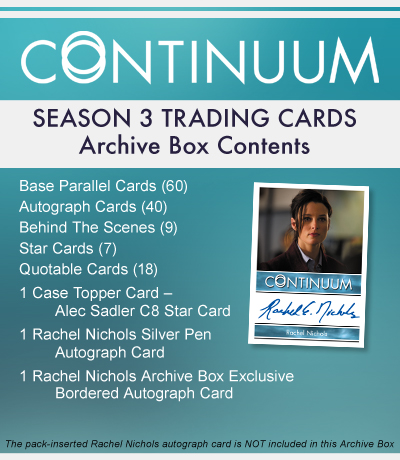 with an Exclusive Rachel Nichols Autograph Card. (Complete list of Archive Box Contents)


Set Configuration: 5 Cards Per Pack, 24 Packs Per Box, 12 Boxes Per Case

© Timely Productions Inc.