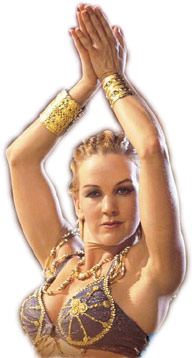 Rittenhouse Archives has done it again! More autographs! More costume cards! More Quality and Value! Each box of the all-new Xena: Season 6 trading cards will contain at least 1 hand-signed autograph card PLUS at least 1 authentic costume card. Autographs include Renee O'Connor, Lucy Lawless, Hudson Leick, Alexandra Tydings and more! Costume cards feature authentic costume material worn by Lucy Lawless, Renee O'Connor, Hudson Leick and many more!

The excitement continues in several incredible levels of bonus cards, including 9 God of War (1:4 packs), 9 Busting Loose (1:8 packs), 9 Wet, Wicked & Wild (1:20 packs) and 2 Forever Gabrielle (1:40 packs).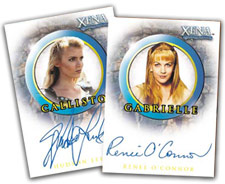 As a bonus to all case buyers, we have also included a "From the Archives" costume card which contains authentic costume material worn by Renee O'Connor as Gabrielle inserted as a special case topper card with each 12-box case.
Every box of Xena: Warrior Princess, Season6 Trading Cards comes complete with 40 packs of cards, and each pack contains 9 cards. Collectors who purchase a full and unopened box are guaranteed to receive a complete, defect free set of the 72 base cards.
Finally, of those collectors looking to store their cards, Rittenhouse Archives has also produced a custom Xena trading card album. Each album comes with 12 9-pocket plastic pages, a special Xena promotional card and an exclusive Xena Costume card. Binders will be limited to only 2,000.