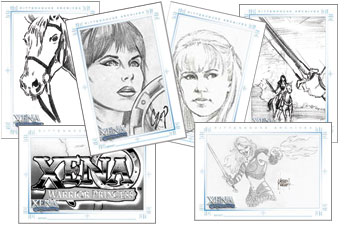 For the first time in a Xena trading card set, Rittenhouse Archives presents collectors with one of the hottest chase cards in today's market. Each box of Art and Images of Xena: Warrior Princess will contain one hand-drawn sketch card! Artists for this series include Warren Martineck, John Czop, Cris Bolson, Sean Pence, Emir Ribeiro, Patrick Hamill, Eduardo Pansica, Joe Corroney, Scott Rosema, Steven Miller, Patricia Parker and Pablo Raimondi. Fans can expect to find their sketches of their favorite characters including Xena, Gabrielle, Joxer, Argo, Ares, Callisto, Aphrodite, Hercules, Borias and others highly detailed in pencil, ink and color!

Continuing the theme of art in this series, collectors will find artwork from three different artists. Artists Rebekah Lynn and Patricia Parker, both Xena enthusiasts themselves, have lent their stunning artwork to this series. Their artwork truly captures the danger and passion of the show. Artist Douglas Shuler will be creating nine new pieces of artwork exclusively for this series that when put together form one large image. His artwork will be found exclusively in the International boxes, while the North American boxes will contain the artwork by Rebekah Lynn.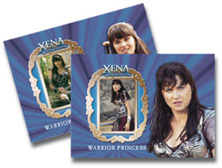 Probably the most exciting pieces of artwork in this series will be those created by series co-star Renee O'Connor. We all know that Renee can act, but did you know that she can draw as well? Renee has drawn 9 new pieces of artwork of her friends from the show including Lucy Lawless as Xena, Kevin Smith as Ares, Alexandra Tydings as Aphrodite, Ted Raimi as Joxer as well as self-portrait of herself as Gabrielle.
Rittenhouse Archives has created six new Xena Gallery cards, featuring the Warrior Princess herself. These cards will be found one in every other box. Collectors should also be on the lookout for five unique Women and Warriors cards. Each card is printed on plastic and numbered to 500.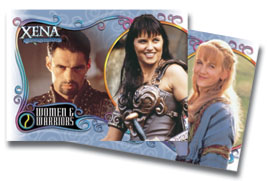 Finally, for those collectors looking to store their cards, Rittenhouse Archives has also produced a new custom Xena trading card album. Each album comes with 15 9-pocket plastic pages, a exclusive promotional card and an exclusive autograph card from Alison Wall as Minya.
Set Configuration:

63 Base Cards
6 Cards Per Pack
20 Packs Per Box
12 Boxes Per Case