Take a stand this spring when Rittenhouse Archives presents its first trading card series from the third installment in hugely successful X-Men movie franchise with X-Men: The Last Stand Movie Trading Cards! Each box in this series is tentatively planned to contain ONE AUTOGRAPH* card from the starring cast. Signers so far include:
(Click on Name to see Sample of Autograph)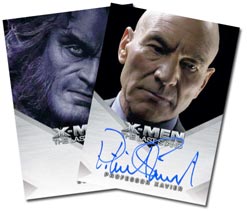 Bill Duke as Bolivar Trask
Cameron Bright as Leech
Olivia Williams as Dr. Moira MacTaggart
Bryce Hodgson as Artie
Omayra Garcia as Arclight
Haley Ramm as Young Jean Grey
Desiree Zurowski as Mrs. Mother
Shohreh Aghdashloo as Dr. Kavita Rao
Michael Murphy as Warren Worthington, Sr. - Album Exclusive
Stan Lee - 2 Case Incentive
The number of chase subsets include:
9 Wolverine in Action (1:13 packs)
16 Casting Call (1:20 packs)
9 Art & Images (1:40 packs)
6 Take a Stand (1:80 packs)
Hand-Drawn Sketch Cards (Odds TBD)
"Since the dawn of existence, there have always been moments when the course of history shifted. Such a turning point is upon us now. The conflict between the better and worst angels of our very nature. Whose outcome will change our world so greatly...there will be no going back. I do not know if victory is possible. I only know that great sacrifice will be required. And because the fate of many will depend on a few, we must make the last stand." - Charles Xavier
*Product configuration is subject to change without notice.