Details
Released:
07.24.2019
Box:
SOLD-OUT
Set:
$49.99

Binder:
SOLD-OUT



William Shatner

("Nightmare at 20,000 Feet")

Ron Howard

("Walking Distance")

Bill Mumy

("It's a Good Life")

Earl Holliman

("Where is Everybody?")

Cloris Leachman

("It's a Good Life")

Morgan Brittany

("Caesar and Me")

Shelley Fabares

("Black Leather Jackets")

Michael Forest

("Black Leather Jackets")

Ruta Lee

("A Short Drink from a Certain Fountain")

And More!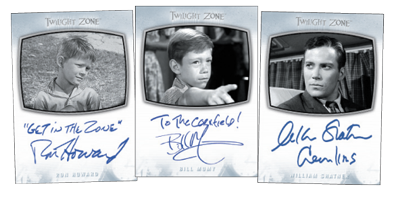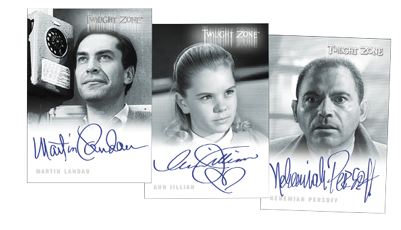 Martin Landau

("The Jeopardy Room")

Ann Jillian

("Mute")

Nehemiah Persoff

("Judgment Night")

Stephen Talbot

("The Fugitive")

Barbara Barrie

("Miniature")

John Considine

("The Thirty-Fathom Grave")

Shelley Fabares

("Black Leather Jackets")

Jim E. Titus

("The Incredible World of Horace Ford")

Jim Houghton

("The Last Rites of Jeff Myrtlebank")

Denise Lynn

("Stopover in a Quiet Town")

And More!

Base Set Features 156 cards, with one card per episode featuring
Rod Serling's Opening and Closing Monologues - the most expansive and
authoritative Twilight Zone card set produced to date!

Bonus Sets Include:
92 Juan Ortiz Portfolio Prints - The Serling Episodes
9 Juan Ortiz Character Art Portfolio Prints
9 Mirrorboard Cards
18 "Stars of the Twilight Zone" Cards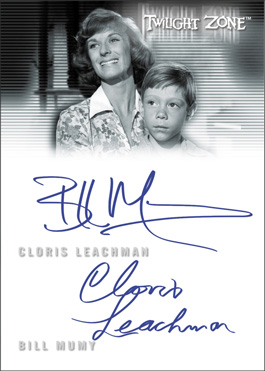 9-CASE INCENTIVE:
Dual Autograph Card signed by Cloris Leachman (Mrs. Fremont)
and Bill Mumy (Anthony Fremont) from "It's A Good Life"!
18-CASE INCENTIVE:
The Twilight Zone: Rod Serling Edition Trading Cards Archive Box,
including 3 sets of 4 Printing Plate Cards used to make either
Base Set or Bonus Set cards.
Product Configuration:
8 Cards Per Pack
24 Packs Per Box
12 Boxes Per Case

TM &amp © 2019 A CBS Company. All Rights Reserved.