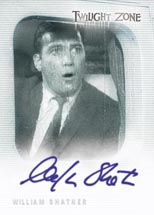 In November 1999 Rittenhouse Archives delivered the first-ever trading card series based on the original Twilight Zone TV program. This long awaited 72 card set included several levels of chase cards and an average of 2 Autographs per box from 18 leading stars who appeared on the classic sci-fi show. Autographs included William Shatner, Rod Taylor, Kevin McCarthy, Bill Mumy, Anne Francis, Earl Holliman, Vera Miles, Martin Milner, Richard Kiel and other top stars.

"The Twilight Zone is without question the greatest science fiction program never to have appeared on trading cards – until now," said Steve Charendoff President of Rittenhouse Archives. "The reason is that CBS simply never had the rights to use the actors, but that is changing. I have had overwhelmingly enthusiastic responses from all of the actors contacted to date, and we are going back and remastering the original films to create the most visually stunning card set possible.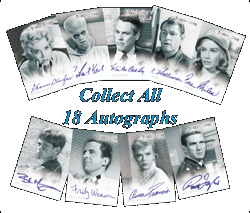 "The insertion of 2 autographs in every box of The Twilight Zone cards also breaks new ground in the entertainment hobby market. These are not autographs for the sake of autographs, but signatures from some of the most prolific Hollywood actors, and the quantities of these autographs will be plentiful enough for dealers and collectors to find any one card and to build complete sets without going broke."

To further enhance this fantastic set an Official Twilight Zone Trading Cards Collectors Album was available complete with plastic sheets and a unique BONUS card!