Featuring
Rod Serling/William Shatner
Dual Autograph Booklet Cards
and
Rod Serling/Billy Mumy
Dual Autograph Booklet Cards

(2 Autograph Cards in Every Box Overall)



(Some Boxes will Contain 2 Inscription Autograph Cards)
| | |
| --- | --- |
| William Shatner ("Nick of Time") | Bill Mumy ("In Praise of Pip") |
| George Takai ("The Encounter") | Ann Jillian ("Mute") |
| Orson Bean ("Mr. Bevis") | H. M. Wynant ("The Howling Man") |
| Peter Mark Richman ("The Fear") | Barbara Barrie ("Miniature") |
| Bonnie Beecher ("Come Wander With Me") | Mary Badham ("The Bewitching Pool") |
| Joyce Van Patten ("Passage on the Lady Anne") | Sherry Jackson ("The Last Rites of Jeff Myrtlebank") |
And more!


Features 64 Twilight Zone Episode Portfolio Prints cards, with original artwork by Juan Ortiz.
The Base Set complements and completes the insert series of episode cards by Juan Ortiz depicted
in the previous series, Twilight Zone - Rod Serling Edition - Trading Cards, issued in 2019.



Bonus Sets Include:


156 Episode Foil Parallel Cards, Including artwork by Juan Ortiz from both 2019 and 2020 series
18 Stars of the Twilight Zone Expansion Cards
9 Twilight Zone Acetate Cards
5 Twilight Zone Character Portfolio Prints Expansion Cards
9 Twilight Zone Portraits Expansion Cards



Plus


Inscription Autograph Cards, Single-Signed Autograph Cards,
Dual Autograph Cards and Dual Autograph Booklet Cards


Minimum of 1 Inscription Autograph Card in Every Box!



6-CASE INCENTIVE:
Billy Mumy (
"It's A Good Life"
)
Portfolio Print Autograph Card
9-CASE INCENTIVE:
William Shatner (
"Nightmare At 20,000 Feet"
)
Portfolio Print Autograph Card
18-CASE INCENTIVE:
2020 Twilight Zone Archive Box, including Pamela Austin A174b
(as Marilyn in
"Number 12 Looks Just Like You"
) Autograph Card
and 1 Set of 4 Printing Plates used to make one of the base cards!
Click here for a complete list of Archive Box contents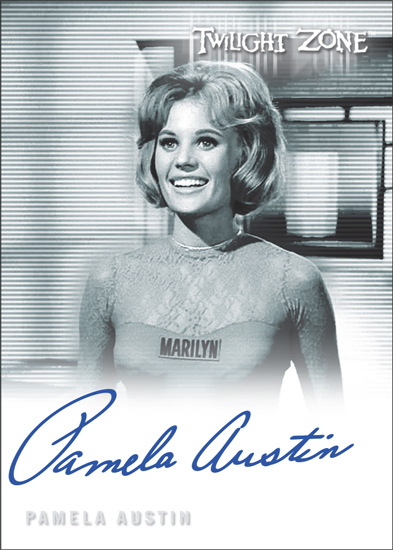 TM &amp © 2020 CBS Company. All Rights Reserved.