The Outer Limits: Sex, Cyborgs and Science Fiction
There is nothing wrong with your television. Do not attempt to adjust the picture. We are now controlling the transmission. We control the horizontal and the vertical. We can deluge you with a thousand channels or expand one single image to crystal clarity and beyond. We can shape your vision to anything our imagination can conceive. For the next hour we will control all that you see and hear. You are about to experience the awe and mystery which reaches from the deepest inner mind to the outer limits.
This summer Rittenhouse Archives will deluge fans of the Outer Limits with its first set of trading cards based on The New Outer Limits tv show, The Outer Limits: Sex, Cyborgs and Science Fiction. This series will feature photos and synopsis for more than a dozen episodes from this modern version of one of TV's more enduring sci-fi classics.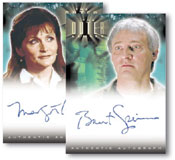 This series will feature a 81-base cards packaged 9 cards per pack with 40 packs per box. Each box is guarenteed to contain 3 Autograph Cards and 2 Costume Cards from some of Hollywoods top stars. Autograph card signers include Brent Spiner, Natasha Henstridge, Michael Ironside, Margot Kidder, Hal Holbrook, Rebecca DeMornay, Alan Thicke, Nana Visitor, Burt Young and more!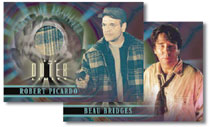 Costume cards will feature show worn materials from Gary Busey, Beau Bridges, John Amos, William Sadler, Sean Patrick Flanery, and more!
A custom-designed album complete with 15 plastic 9-pocket pages, an exclusive P3 promo card and an exclusive Robert Picardo "From The Archives" costume card will also be available. With only 4,000 sequentially numbered boxes being produced, this set is sure to be one of the summer's hottest products.
The Outer Limits: Sex, Cyborgs and Science Fiction will be available in Early September 2003!
Actual Screen Worn costumes used in this set.

| | |
| --- | --- |
| Gary Busey from "Revival" | John Amos from "Zig Zag" |
| | |
| Beau Bridges from "Sandkings" | William Sadler from "Valerie 23" |
| | |
| Brent Spiner in "The Deprogrammers" | Robert Picardo from "Sarcophagus" |
| | |