| | |
| --- | --- |
| William Shatner (Captain Kirk) | Nichelle Nichols (Uhura) |
| George Takei (Sulu) | Walter Koenig (Chekov) |
| Bruce Mars (Finnegan) | Jack Donner (Romulan Subcmdr.) |
| Michael J. Pollard (Jahn) | Lee Meriwether (Losira) |
| Michael Dante (Maab) | Elinor Donahue (Nancy Hedford) |
| Charlie Brill (Arne Darvin) | and More! |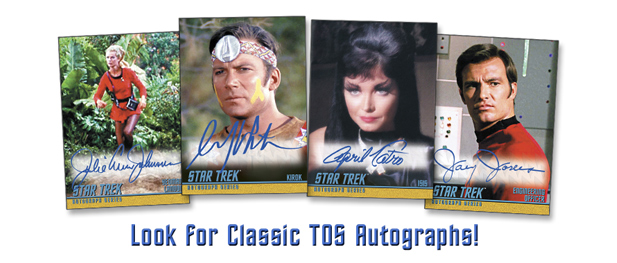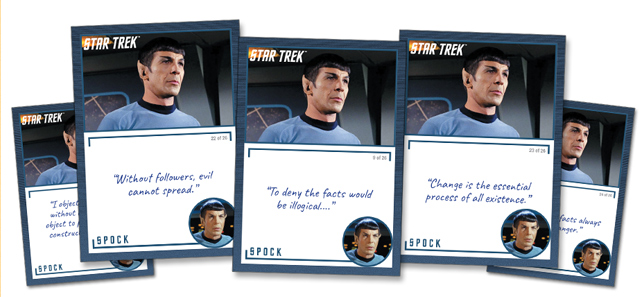 Memorable quotes from 98 characters from Star Trek TOS.
Loads of variations to collect! Where no base set has gone before!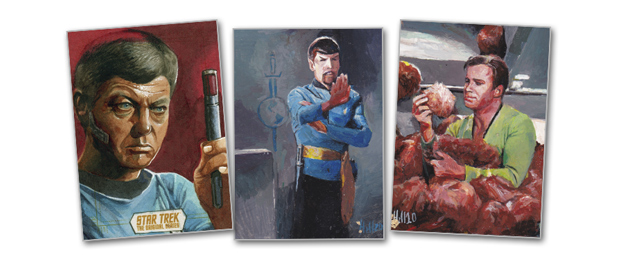 44-card set, retelling the entire episode in scene-by-scene detail,
like never before. One of the greatest episodes in Star Trek lore!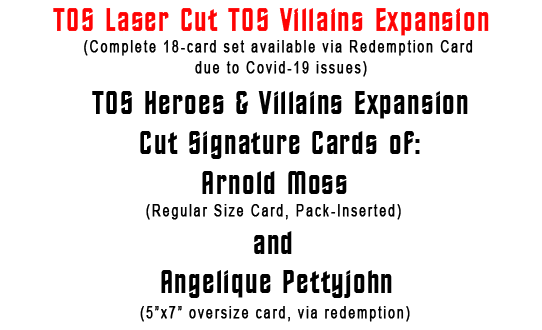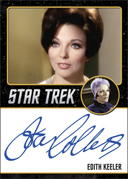 Dual Autograph Card (DA37) Signed by Walter Koenig (Chekov)
and Bonnie Beecher (Sylvia) in "Spectre of the Gun"!

Autograph Card signed by Joan Collins (Edith Keeler)
in "The City on the Edge of Forever"


STAR TREK: The Original Series Archives and Inscription Trading Cards
Archive Box, including an exclusive Silver Signature Teri Garr (Roberta Lincoln)
in "Assignment: Earth" Autograph Card and an exclusive set set of 4 color printing plates
used to make the front of one base set card!
Archive Box exclusions: William Shatner Inscription Autograph Card, Arnold Moss Cut Signature Card, Angelique Pettyjohn Cut Signature Card, Sketch Cards, Base Set Variations and Laser Cut Cards.

TM &amp © 2020 CBS Studios Inc. STAR TREK and related marks and logos are trademarks of CBS Studios Inc. All Rights Reserved.