Following up on last years sell-out hit set
The Quotable Star Trek: Original Series
, Rittenhouse Archives is excited to offer collectors
The Quotable Star Trek: The Next Generation
trading cards in early 2005!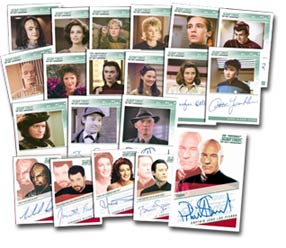 Each box of The Quotable Star Trek: The Next Generation comes with 1 autograph card and 1 costume card! Cast signers include: Patrick Stewart, Brent Spiner, Jonathan Frakes, Marina Sirtis and Michael Dorn on the "quotable" autograph design used in last years The Quotable Star Trek: Original Series series. Also included are a bevy of guest star autographs on an all-new autograph card design. Also featured on this new autograph card design are several of the regular cast as their holodeck characters. These signers include
Patrick Stewart as Dixon Hill
Brent Spiner as Sherlock Holmes
Denise Crosby as Lt. Tasha Yar
Wil Wheaton as Ensign Wesley Crusher
Majel Barrett as Lwaxana Troi
John de Lancie as Q
Diana Muldaur as Dr. Kate Pulaski
Michelle Forbes as Lt. Ro Laren

Famke Janssen as Kamala
Saul Rubinek as Kivas Fajo
Jennifer Hetrick as Vash
Patti Yasutake as Nurse Ogawa
Suzie Plakson as K'Ehleyr
Carel Struycken as Mr. Homm
Rosalind Chao as Keiko O'Brien
Collectors should also keep their eyes out for several dual autograph cards randomly inserted into the packs. Each card is a limited edition of only 200 each!
Jonathan Frakes & Marina Sirtis as Riker & Troi
Marina Sirtis & Majel Barrett as Deanna Troi & Lwaxana Troi
Michael Dorn & Suzie Plakson as Worf & K'Ehleyr
Majel Barrett & Carel Struycken as Lwaxana Troi & Mr. Homn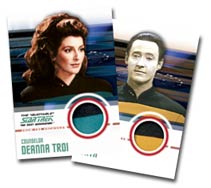 Rittenhouse Archives has also acquired authentic Star Trek: Next Generation costumes to be used on 9 different costume cards. Each member of the bridge crew is represented in this set. Bonus cards for this incredible series include:
Space: The Final Frontier (1:5 packs)
The "Quotable" Star Trek: TNG The Comic Book Cards (1:14 Packs)
Collectable TV Guide Cover Cards (US Exclusive 1:40 Packs)
The Captain's Women (UK Exclusive 1:40 Packs)
Starfleet's Finest (1:120 packs)
A Custom-designed album to store the entire collection, including plastic pages, bonus promo card and an exclusive autograph card signed by Marta DuBoise as Ardra will also be available.
Below are images of the some of the costumes used for this set.
(Click image for larger version)

| | | |
| --- | --- | --- |
| | | |
| Beverly Crusher Jacket | Deanna Troi "Duty Uniform" | Picard Early Season Duty Uniform |
| | | |
| Riker Uniform Jacket | Data Early Season Duty Uniform | Worf Early Season Duty Uniform |