DUAL AUTOGRAPH/BOOKLET CARDS
William Shatner (Captain Kirk) and Avery Brooks (Captain Sisko)
from "Trials and Tribble-ations"

Benedict Cumberbatch (Khan) and Ricardo Montalban (Khan)

George Takei (Captain Sulu) and Grace Lee Whitney (Cmdr. Rand)
in "Star Trek VI: The Undiscovered Country"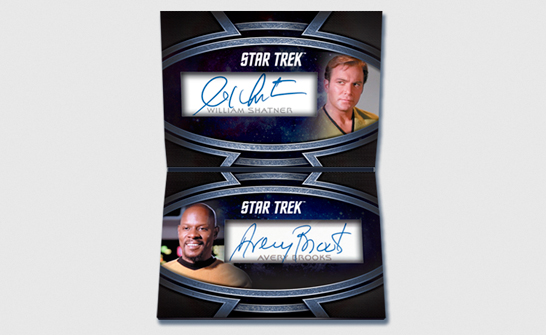 50TH ANNIVERSARY AUTOGRAPH CARDS
| | |
| --- | --- |
| Leonard Nimoy (Spock) | Brent Spiner (Data) |
| Jeri Ryan (Seven of Nine) | Nichelle Nichols (Uhura) |
| Marina Sirtis (Troi) | Colm Meaney (O'Brien) |
| Jonathan Frakes (Riker) | Alexander Siddig (Dr. Bashir) |
| Gates McFadden (Dr. Crusher) | Terry Farrell (Dax) |
| Grace Lee Whitney (Rand) | Armin Shimerman (Quark) |
And More!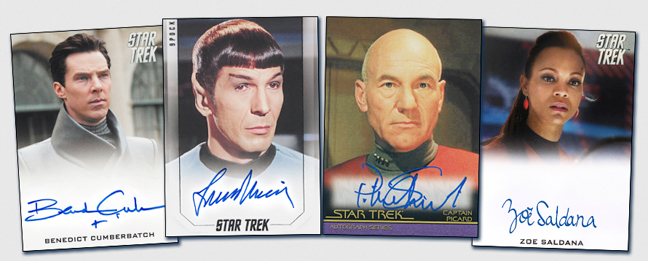 MOVIE AUTOGRAPH CARDS
Patrick Stewart
(Captain Picard),
Benedict Cumberbatch
(Khan)
Zoe Saldana
(Uhura),
Whoopi Goldberg
(Guinan)
LeVar Burton
(La Forge),
Gates McFadden
(Dr. Crusher)
David Warner
(St. John Talbot/ STV),
Walter Koenig
(Chekov)
Ethan Phillips
(Maitre'D/ STFC),
Christopher Plummer
(Gen. Chang/ STVI)
Nicholas Meyer
(Writer/ Director/ STII: The Wrath of Khan)
Malcolm McDowell
(auto/relic)(Soran/ ST Generations)
and more!
BONUS AUTOGRAPH CARDS
Jolene Blalock
(T'Pol) Autograph/Relic Card
Linda Park
(Sato) Autograph/Relic Card
Alexander Siddig
(Bashir) Quotable DS9 Autograph Card
Jason Alexander
(Kurros) Quotable Voyager Autograph Card
STARFLEET'S FINEST PAINTED PORTRAIT SKETCH CARDS
BY ARTIST KEVIN GRAHAM
Plus ArtiFex Metal Parallel Cards
(#'d to 50 each)
QUINTUPLE CAPTAINS RELIC CARD
Five Classic Captains on one card!
Captains Kirk, Picard, Sisko, Janeway and Archer
100-CARD MIRROR/INFLEXIONS BASE SET
(3 Mirror/Inflexions Cards Per Pack)
300 defining moments of the Bridge Crews of the five classic TV series and movies!
OFFICIAL STAR TREK 50TH ANNIVERSARY STAMP CARDS
Featuring 5 Stamps officially released in Canada, depicting the five classic captains:
Captain Kirk, Captain Picard, Captain Sisko, Captain Janeway and Captain Archer!
(#'d to 125 each)
ADDITIONAL STARFLEET'S FINEST SPECIAL CARDS:
Sketch Cards
Metal Expressions of Heroism Cards
(#'d to 150 each)
Seven-Character Deep Space Nine Relic Card
(the entire starring cast)
Printing Plate Cards
Throwback Sticker Cards
Phaser Cut Bridge Crew Cards
(#'d to 100 each)
Laser Cut Villains Cards
(#'d to 100 each)
White Parallel Base Set
(#'d to 150 each)
Silver Parallel Base Set
(#'d to 75 each)