The biggest, most comprehensive set of Star Trek: Voyager cards ever! All 172 Star Trek Voyager episodes covered in one blockbuster series. At least 1 card for every episode, and that's just the base set. Nearly 1,500 photos in the entire series. This unique set will also feature three levels of autographs cards;
Favorite guest stars
,
"Captain Proton"
and
Dual autographs
.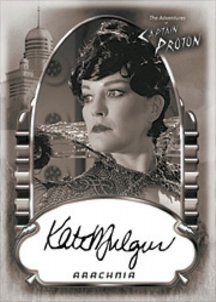 Fans can find autographs from some of their favorite guest stars including Larry Drake (Administrator Chellek), John Savage (Captain Ransom), Manu Intiraymi (Icheb), Richard Herd (Admiral Paris), Bruce McGill (Captain Braxton), Joseph Campanella (Arbitrator) and more! The "Captain Proton/Dr. Chaotica" subset will feature Martin Rayner (Dr. Chaotica), Kate Mulgrew (Arachnia), Robert Duncan McNeill (Captain Proton), Garrett Wang (Buster Kinkaid), Robert Picardo (President of Earth) and others. Couples are the theme for our dual autograph series with cards signed by both Robert Duncan McNeill (Tom Paris ) and Roxann Dawson (B'Elanna Torres). As well as one signed by both Ethan Phillips (Neelix) and Jennifer Lien (Kes).
Collectors can also look for randomly inserted Sketchafex and costume cards.
As an added bonus to collectors, a limited edition collector's album will be available. Each album comes complete with an authentic costume card or autograph card (TBA), plus 12 plastic sheets.
| | |
| --- | --- |
| CC1 (From the episode "Unimatrix Zero") | CC2 (From the epiosde "Drive") |
| | |