Details
Released:
12.13.2017
Box:
$99.99

Set:
SOLD-OUT
Binder:
SOLD-OUT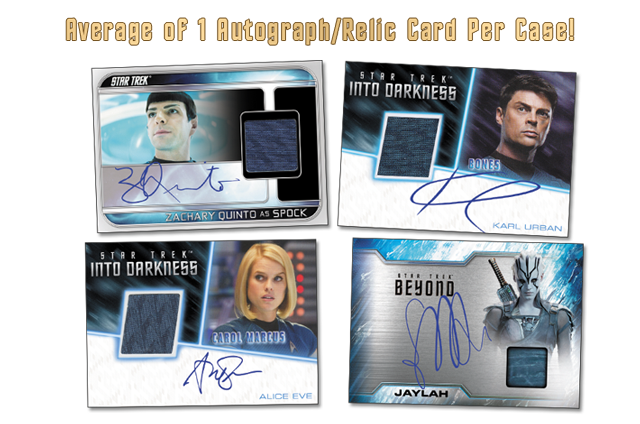 | | |
| --- | --- |
| Chris Pine (Captain Kirk) | Zachary Quinto (Spock) |
| Zoe Saldana (Uhura) | Karl Urban (McCoy) |
| Simon Pegg (Scotty) | Sofia Boutella (Jaylah) |
| Alice Eve (Carol Marcus) | Ben Cross (Sarek) |
| Bruce Greenwood (Captain Pike) | Peter Weller (Admiral Marcus) |
| Jimmy Bennett (Young James T. Kirk) | Lydia Wilson (Kalara) |
And Many More!

(Signers from all 3 Modern Star Trek Movies)





Screen-Worn Costume Cards include materials from Captain Kirk, Spock, Uhura, Scotty, Chekov,
Krall, Jaylah and More. Single Relics, Dual Relics, Dual Character Relics and Prop Relics!
Plus Starfleet uniform badge/pin cards of the entire Enterprise bridge crew!


72-Card Base Set
72-Card Numbered Metal Base Parallel Set
15-Card Quotable Star Trek Set
9-Card Metal Character Poster Set
9-Card Uniform Patch Set
10-Card Uniform Pin Set
9-Card Anton Yelchin/Chekov In Memoriam Set
6-Card Leonard Nimoy/Spock In Memoriam Expansion Set
Average of 1
SKETCH CARD
Per Case.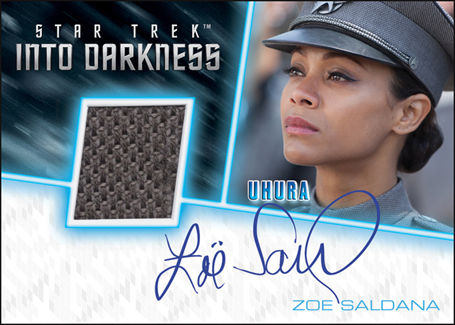 6-Case Incentive:
Autograph Relic Card Signed by
Zoe Saldana (Uhura)
!
9-Case Incentive:
Autograph Relic Card Signed by
Chris Pine (Captain Kirk)
!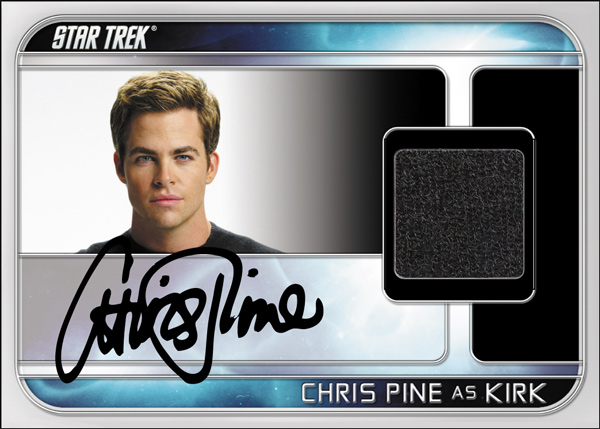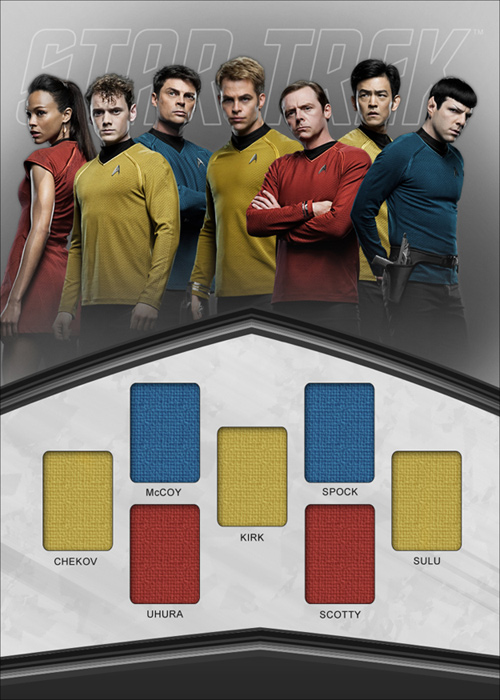 18-Case Incentive:
STAR TREK BEYOND
Trading Cards Archive Box
Includes Exclusives:
Seven-Piece Bridge Crew Relic Card
Justin Lin (Movie Director) Autograph Card
Chekov Command Bridge/Pin Card variation (U6a)
Set of 4-color printing plates used to make the front of one base set card.
Click here for a complete list of Archive Box contents


&nbsp &nbsp TM &amp © 2017 CBS Studios Inc. © 2017 Paramount Pictures Corp. STAR TREK and related
marks and logos are trademarks of CBS Studios Inc. All Rights Reserved.