1 DOUBLE Autograph card AND
1 SINGLE Autograph Card in Every Box!




Double Autograph Cards Include:
William Shatner (Kirk)/Joan Collins (Keeler)
in "The City on the Edge of Forever"
Nichelle Nichols (Uhura)/Walter Koenig (Chekov)
in "The Trouble with Tribbles"
Michael Forest (Apollo)/Leslie Parrish (Palamas)
in "Who Mourns for Adonais"
Clint Howard (Balok)/Anthony Call (Bailey)
in "The Corbomite Maneuver"
Michael Ansara (Kang)/Susan Howard (Mara)
in "Day of the Dove"
Grace Lee Whitney (Rand)/Robert Walker Jr. (Charlie)
in "Charlie X"
And More! (See Checklist for the full list of signers.)
100-Card Base Set featuring the greatest heroes and villains from all 79 Star Trek:
The Original Series episodes, from Kirk and Spock to Khan and the Gorn!
BONUS SETS:
100-card parallel set (1:3 packs)
12-card Star Trek Tribute Expansion set (1:6 packs)
9-card Epic Battles set (1:12 packs)
9-card "Mirror/Mirror" set (1:24 packs)
7-card Bridge Crew Shadowbox Cards (1:41 packs)
CASE TOPPER:
Heroes & Villains Plastic Case Toppers
(2 cards, one per case)
3-CASE INCENTIVE: Nichelle Nichols (Uhura) Autograph/Relic Card
6-CASE INCENTIVE: Leonard Nimoy (Spock) Silver Signature Series Autograph Card
18-CASE INCENTIVE: Star Trek: The Original Series Heroes & Villains Archive Box
REWARDS CARD: T50 Roger C. Carmel as Harry Mudd Tribute Card


Product Configuration:
5 Cards Per Pack | 24 Packs Per Box | 12 Boxes Per Case

® & © 2012 CBS Studios Inc. STAR TREK & Related marks are trademarks of CBS Studios Inc. All Rights Reserved.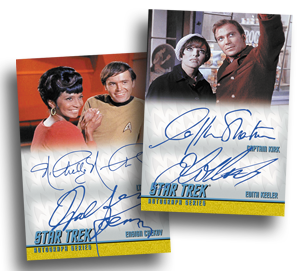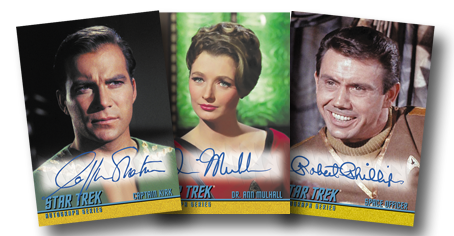 Single Autograph Cards Include:
William Shatner (Kirk/Casual Tunic)
Nichelle Nichols (Uhura/Yellow Uniform)
in "The Corbomite Maneuver"
Maggie Thrett (Raging Ruth Bonaventure)
in "Mudd's Women"
Steve Sandor (Lars)
in "The Gamesters of Triskelion"
Robert Phillips (Space Officer)
in "The Cage" (Original Pilot!)
Diana Muldaur (Ann Mulhall)
in "Return to Tomorrow"
And More! (See Checklist for the full list of signers.)