4 Autograph Cards Per Box!


Autograph Signers Include:
Patrick Stewart (Captain Picard)
Bebe Neuwirth (Nurse Lanel in "First Contact")
Gates McFadden (Dr. Crusher)
Levar Burton (Geordi LaForge)
Michael Dorn (Worf)
Michelle Forbes (Ro Laren)
Olivia d'Abo (Amanda Rogers in "True Q")
Terry O'Quinn (Admiral Pressman in "The Pegasus")
Paul Sorvino (Nikolai Rozhenko in "Homeward")
Jerry Hardin (Samuel Clemens in "Time's Arrow")
Patrick Massett (Duras in "Sins of the Father")
Robert Duncan McNeill (Cadet Locarno
in "The First Duty")
Harry Groener (Tam Elbrun in "Tin Man")
Christopher McDonald (Lt. Castillo
in "Yesterday's Enterprise")
Tricia O'Neill (Captain Garrett
in "Yesterday's Enterprise")
Michelle Scarabelli (Lt. Jenna D'Sora in "In Theory")
Ronny Cox (Captain Jellico in "Chain of Command")
Amick Byram (Andrew Ian Troi in "Dark Page")
Armin Shimerman (Quark in "Firstborn")
Howie Seago (Riva in "Loud as a Whisper")
Margot Rose (Eline in "The Inner Light")
and many more first-time signers!
(More than 40 different signers in all!)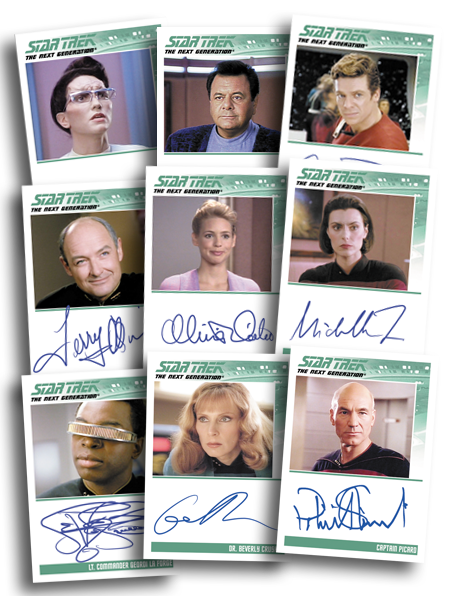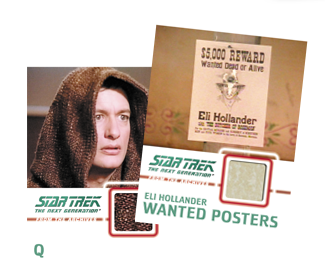 100-Card Base Set featuring key heroes and villains from the
entire seven seasons of Star Trek: The Next Generation, plus
the following bonus card sets:
100-card parallel base set (1:3 packs)
9 Undercover Heroes (1:24 packs)
18 TNG Romance Cards (1:12 packs)
18 TNG Remastered Cards (1:12 packs)
5 TNG 25th Anniversary Poster Cards (1:48 packs)
6 Star Trek TNG Relic Cards (1:96 packs)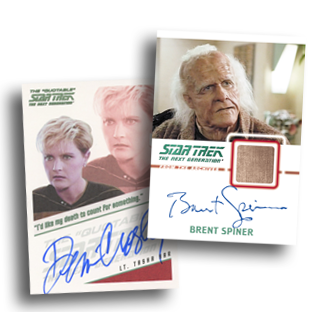 CASE TOPPER: Heroes Montage Card & Villains Montage Card
(1 per case)
3-CASE INCENTIVE: Denise Crosby/Quotable TNG Autograph Card
6-CASE INCENTIVE: Brent Spiner (Dr. Soong) Autograph/Relic Card
18-CASE INCENTIVE: Star Trek: TNG Heroes & Villains Archive Box



Product Configuration:
5 Cards Per Pack | 24 Packs Per Box | 12 Boxes Per Case

® & © 2013 CBS Studios Inc. STAR TREK & Related marks are trademarks of CBS Studios Inc. All Rights Reserved.