Stargate SG-1 Season 9 Trading Cards
A year of change within the Stargate program as General Laundry takes over Stargate Command and a young eager former fighter pilot Lt. Colonel Cameron Mitchell takes over as commander of SG-1. Colonel Mitchell must re-assemble SG-1 to face a threat even greater than the gou'ald. An ancient enemy of the long gone Ancients, the Ori have return and seek to spread their word across the galaxy. Those who do not bow down and convert are destroyed! In March, remember all of the great adventures, the sacrifices and new discoveries with
Stargate SG-1 Season 9 Trading Cards
.
Each 40 pack box will contain 2 Autograph Card and 1 Costume or Relic(Prop) Card.

Signers included so far are:
Ben Browder as Lt. Col. Mitchell
Lexa Doig as Dr. Carolyn Lam
Matthew Bennett as Jared Kane
Peter Flemming as Malcolm Barrett
Kendall Cross as Julia Donovan
Steve Bacic as Camulus
Greg Anderson as Administrator
Alessandro Juliani as Katep

Ernie Hudson as Pernaux
William B. Davis as Prior
Michael Ironside as Seevis
Cameron Bright as Orlin
Tony Todd as Haikon
Matthew Walker as Merlin
Kira Clavell as Amaterasu
Amy Sloan as Leda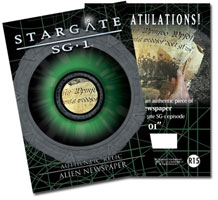 This series also features three all-new
Stargate SG-1 Relic cards
featuring pieces of actual show props. Each card will be individually numbered for added collectability. We have gathered an impressive assortment of props including:
Alien Newspaper from "2001"
Roses from "Chimera"
Alien Documents from "Revisions"
Costume cards include costumes worn by an amazing selection of cast and key guest stars including: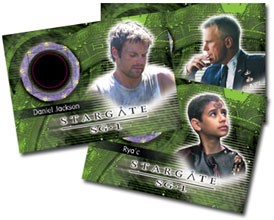 General Jack O'Neill's dress shirt from "Avalon"
Lt. Colonel Cameron Mitchell's black BDU pants from "The Fourth Horseman"
Daniel Jackson's Robes from "Orpheus"
Daniel Jackson's Jeans from "Evolution"
Daniel Jackson's T-Shirt from "Evolution"
General Hammond's dress pants
Ryac's shirt from "Family"
Fourth Outfit from "Unnatural Selection"
Unas leathers and furs from "Enemy Mine"
The excitement continues in the chase sets:
• Production Sketches (1:10 packs)

18-card set featurng the rough pre-production sketches used to create the sets, costumes and props.
• The Book of Origin (1:20 packs)

9-card set with the words of the Ori! Hallowed are the Ori
• Cast Posters (1:40 packs)

9-card set featuring the main cast
Each case comes with an exclusve dual-costume card of Cronus from "Double Jeopardy". For every 2-case purchased, you will receive a dual-autograph card signed by Michael Shanks as Daniel Jackson and Ben Browder as Cameron Mitchell. For every 3-case purchased, you will receive an exclusive R75 "Bug" prop card which features an actual
fully intact
prop bug used in the episode "The Scourge".
A new official Stargate SG-1 Season 9 Collector's Album will also be available, and each album will come complete with 12 plastic sheets and an exclusive dual costume card from Cronus in the episode "Double Jeopardy" as well as an binder exclusive P3 promo card featuring Teal'c.