Stargate SG-1 Season 8 Trading Cards
With Anubis' fleet destroyed, newly promoted General Jack O'Neill takes over command of the Stargate program. Lt. Colonel Samantha Carter now leads SG-1 as they struggle to help the rebelling Jaffa warriors and face the return of an enemy they thought dead. In February, remember all of the great adventures, the sacrifices and new discoveries with
Stargate SG-1 Season 8 Trading Cards
.
Each 40 pack box will contain 1 Autograph Card and 1 Costume or Relic(Prop) Card.

Signers included so far are:
Claudia Black as Vala
Mel Harris as Oma Desala
Isaac Hayes as Tolok
Dan Castellaneta as Joe Spencer
Charles Shaughnessy as Alec Colson
Michael Welch as Young Jack O'Neill

Sam Jones as Aris Boch
Peter Williams as Apophis
Kevin McNulty as Dr. Warner
Cary-Hiroyuki Tagawa as Turghan
Alisen Down as Dr. Brightman
William de Vry as Aldwin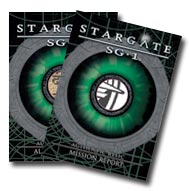 This series also features five all-new
Stargate SG-1 Relic cards
featuring pieces of actual show props. Each card will be individually numbered for added collectability. We have gathered an impressive assortment of props including:
Kelownan Files and Papers from "Fallout"
Map from "Prophecy"
Alien Newspaper from "Memento"
Mission Report from "Fallen/Homecoming"
Operations Manual for the Sebrus from "Space Race"
Costume cards include costumes worn by an amazing selection of cast and key guest stars including: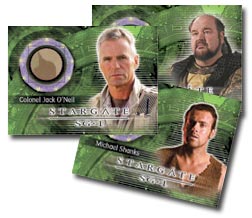 Jonas Quinn from "The Changeling"
Dr. Daniel Jackson from "Beneath The Surface"
Colonel O'Neill from "Full Circle"
Teal'C from "Beneath The Surface"
Major Kawalsky from "Point of View"
Urgo from "Urgo"
Kasuf from "Forever In a Day"
The excitement continues in the chase sets:
• Twisted (1:10 packs)

9-card set looking into the alternate reality or future versions of the SG-1 Team.

• SG-1 Personnel Files (1:20 packs)

Look into the classified top-secret personnel files of the members of Stargate Command including a sneak peak into season 9!

• Kneel Before Your God (1:480 packs)

Bow down in respect before Apophis and Ra!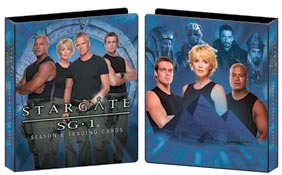 A new official Stargate SG-1 Season 8 Collector's Album will also be available, and each album will come complete with 12 plastic sheets and an exclusive autograph card from Erica Durance as Krista James as well as an binder exclusive P3 promo card featuring Teal'c.
(Click image for larger version)

| | | | |
| --- | --- | --- | --- |
| | | | |
| Kelownan Files and Papers from "Fallout" | lien Newspaper from "Memento" | Map from "Prophecy" | Mission Report from "Fallen/Homecoming" |
| | | | |
| Operations Manual for the Sebrus from "Space Race" | Urgo from "Urgo" | Dr. Daniel Jackson from "Beneath The Surface" | Major Kawalsky from "Point of View" |
| | | | |
| Jonas Quinn from "The Changeling" | Colonel O'Neill from "Full Circle" | Teal'C from "Beneath The Surface" | Kasuf from "Forever In a Day" |