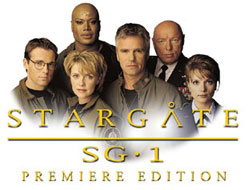 Stargate SG-1 Premiere Edition Trading Cards are coming February 2001! This premiere edition series has been limited to only 8,000 sequentially-numbered boxes and explores the first three seasons of episodes in a dynamic 72-card set. In addition, Rittenhouse has added several exciting bonus levels, including 9 Stargate Aliens; 5 Stargate Stars; 3 "From the Archives" cards with costume materials worn by Richard Dean Anderson (Col. O'Neill), Michael Shanks (Daniel Jackson) and Amanda Tapping (Maj. Carter); and 8 Autograph cards signed by Richard Dean Anderson (Col. O'Neill), Don S. Davis (Gen. Hammond), Teryl Rothery (Dr. Fraiser), Alexis Cruz (Skaara), Vaitiare Bandera (Sha're), Peter Williams (Apophis), Jay Acovone (Maj. Kawalsky) and more!
ONE AUTOGRAPH CARD IN EVERY BOX!
The Official Stargate SG-1 Collector's Album will also be available, and each album will come complete with 12 plastic sheets, a bonus promotional card of Richard Dean Anderson as Col. O'Neill, and a bonus AUTOGRAPH card personally signed by Tony Amendola (Bra'tac). Only 1,500 binders will be produced!
Plus, as an added bonus, each 12-box case of Stargate SG-1 Premiere Edition Trading Cards will contain a special, limited edition case topper "From The Archives" costume card featuring Christopher Judge (Teal'c). Only 667 cases (and case toppers) will be available!