With the continual threat from the Wraith and the Genii, the Atlantis crew continues their search for new allies and technology to battle the ever-growing threat to Earth. This all-new 72-card series captures the excitement and adventure of Stargate: Atlantis Season Two, with all-new images and complete plot synopses.

Each of box of our Stargate: Atlantis Season Two Trading Cards will contain TWO autograph cards! Autographers for this set include show stars Torri Higginson as Dr. Elizabeth Weir and Rachel Luttrell as Teyla Emmagan. Additional signers include many of the show recurring guest stars including:




• Brandy Ledford as Norina
• Kavan Smith as Major Lorne
• James Lafazanos as Male Wraith
• Ellie Harvie as Dr. Lindsey Novak
• Andee Frizzell as Wraith Hive Queen
• Ryan Robbins as Ladon Radim
• Peter Woodward as Otho

• Connor Trinneer as Michael Kenmore
• Jamie Ray Newman as Lt. Laura Cadman
• Claire Rankin as Dr. Kate Heightmeyer
• Clayton Landey as Colonel Dillon Everett
• Pascale Hutton as First Officer
• Christian Bocher as Torrell
• Chad Morgan as Teer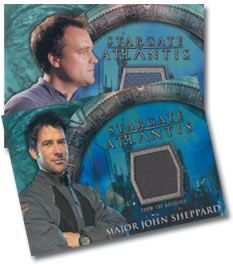 Rounding out this set are a number of chase subsets including:
20 The Quotable Stargate: Atlantis 1:6 packs.
9 Warriors in Action 1:20 packs
7 Atlantis Crew 1:40 packs
4 Costume Cards (Sheppard, McKay, Male Wraith and Hailing) 1:120 packs
3 Stargate Atlantis In Motion Cards 1:240 packs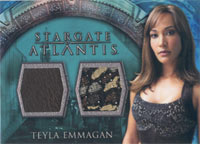 Each case of Stargate: Atlantis Season Two Trading Cards will also include an exclusive dual costume card case topper of Rachel Luttrell as Teyla Emmagan. (1 of 3 different variations in each case!)
Fans and collectors will also be able to store their collections in a custom designed collector's album which contains an exclusive autograph card of Garwin Sanford as Simon and an exclusive promo card.