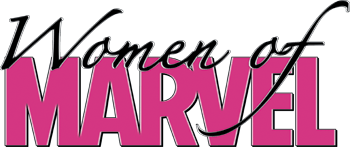 Following up on 2006's
SOLD-OUT
"The Complete Avengers", comes second set of trading cards based on Marvel comics,
The Women of Marvel
. This comprehensive trading card collection will cover all of the key female characters in the Marvel Universe - from the Invisible Woman, to She-Hulk, to Spider-Woman, to Rogue, to Mystique and many more of the most powerful and sexiest women ever drawn on comics!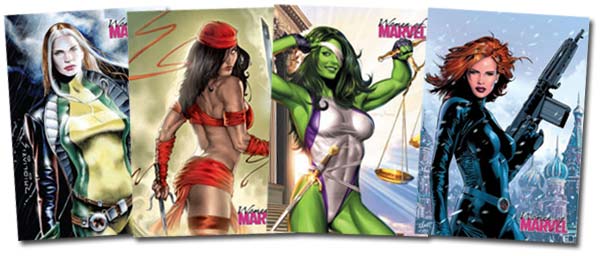 Each box of this set will feature
1 Hand-drawn and Colored Sketch Card
from over 50 different artists. The number listed after the artist name is the estimated number of completed cards. These number may change as cards are approved or disapproved by Marvel or as new cards come in.
(Sample sketches from each artists will be made available as they are approved)
Rounding out the chase cards are several exciting sets including :
18-Card Swimsuit Edition (1:6 packs)
9-Card Embossed Set (1:12 packs)
9-Card Embrace Set (featuring famous pairings of male and female characters found 1:24 packs)
Each case will come with an exclusive autograph card signed by pin-up artist extraordinaire, Adam Hughes. For every three cases purchased of
Women of Marvel Trading Cards
you will receive an Exclusive Sketch Card from artist
Warren Martineck
. For every nine cases purchased you will receive an Exclusive 5x7" painted sketch card from artist
Allison Sohn
!
Fans and collectors will also be able to store their collection in a custom designed collector's album which contains an exclusive promo card.

Both marked and unmarked Archive Boxes were produced for this set. The unmarked or hidden Archive Boxes were randomly inserted into cases. All of the Archive Boxes contain 10 sketch cards. All 10 of the sketch cards are from different artists, with three of the artists being exclusive to the Archive Box. These artists are Allison Sohn, Adam Hughes and Chachi Hernandez.


MARVEL, Women of Marvel, and all related characters: TM & © 2008 Marvel Characters, Inc.
All Rights Reserved.