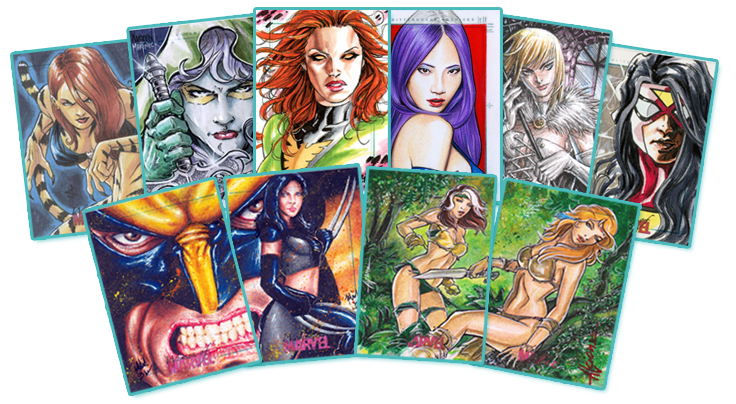 Set Configuration: 5 Cards Per Pack, 24 Packs Per Box, 12 Boxes Per Case




© MARVEL
(Checklist subject to change without notice)
1 COLOR SKETCH CARD OR
SKETCH PUZZLE IN EVERY BOX!
Sketch cards will feature the most DANGEROUS, SEXIEST WOMEN of the Marvel Universe!!
Every box will contain either a single sketch card or a multi-card sketch puzzle. Sketch puzzles will be inserted approximately every third box (or approximately 4 boxes in every 12-box case).
Artists include Sean Pence, Mark Texeira, Allison Sohn, Mick Glebe, Matt Glebe, Newton Barbosa, Joshua Flower, Michael Sta. Maria, Jon Hughes, Matias Streb, Kevin West, Studio Mia, Frank Kadar and more than 100 others.
COMPLETE LIST OF SKETCH ARTISTS
Artist Rhiannon Owens has created nine all-new pieces of original art for our upcoming Women of Marvel set. These stunning pieces of art capture some of Marvel's top female characters including Black Widow, Rogue, Phoenix, Scarlet Witch and more! The backs of each card also feature insights from Rhiannon on the characters and her approach to drawing each of them. As a added bonus, Rhiannon has signed a limited quantities of these cards which were inserted one per case. The autographed version of her cards feature full bleed artwork on the front and have an "A" in front of the card number on the back.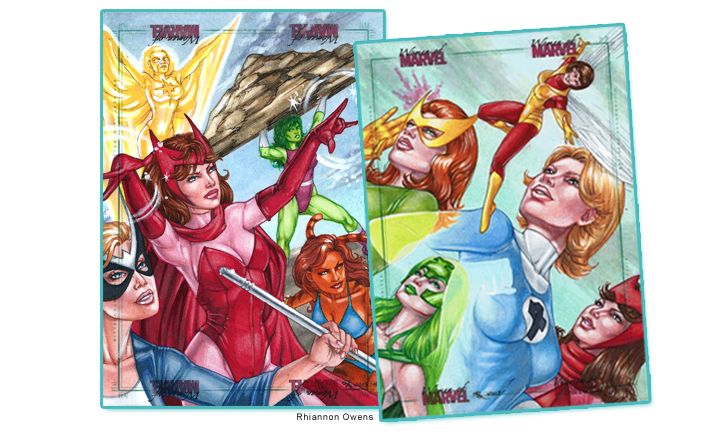 6-Case Incentive 4-Card Multi-Character Sketch Puzzle by Rhiannon Owens!

9-Case Incentive: 5"x7" Portrait Sketch by Tim Shay or Veronica O'Connell!

18-Case Incentive: Women of Marvel Series 2 Archive Box!