Billionaire industrialist and genius inventor, Tony Stark, is kidnapped and forced to build a devastating weapon. Instead, using his intelligence and ingenuity, Tony builds a high-tech suit of armor and escapes captivity. When he uncovers a nefarious plot with global implications, he dons his powerful armor and vows to protect the world as Iron Man!
On April 30th, Rittenhouse Archives will release its
Iron Man Movie Trading Cards
, the perfect companion to what will be one of the hotest and high-tech movies of 2008! Each box of this set will feature
2 Super-Collectable Cards Per Box!
including Autograph cards, Sketch Cards and/or Costume Cards.
Signers so far for this set include:
Robert Downey Jr.
as
Tony Stark
Terrence Howard
as
Jim Rhodes
Jeff Bridges
as
Obadiah Stane
Faran Tahir
as
Raza
Shaun Toub
as
Yinsen
Clark Gregg
as
Agent Phil Coulson
Jon Favreau
the
Director of Iron Man
Costume cards will feature authentic screen worn costumes from the movie's main characters including Tony Stark, Jim Rhodes, Pepper Potts, Obadiah Stane, Yinsen, Raza and Christine Everhart!
Also randomly inserted will be Iron Man sketch cards. There will be two different styles of sketch cards, one featuring the movie version of Iron Man and the other the comic book version.
Artist for this series include:
Rounding out the chase cards are several exciting sets including :
Iron Man Archives - Key Iron Man moments from "Tales of Suspense". (1:8 packs)
Casting Call - A look at the all-star cast of Iron Man. (1:12 packs)
Armored Hero - Iron Man in action! (1:24 packs)
Each case will come with an exclusive autograph card signed by Larry Leiber, script writer for "Tales of Suspense #39" and co-creator of Iron Man.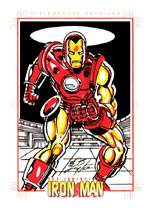 For every two cases purchased of
Iron Man Movie Trading Cards
you will receive an Armor Prop card featuring a piece of the Mark I, Mark III or Iron Monger armor. For every four cases purchased you will receive an Exclusive Sketch Card from legendary Iron Man artist
Bob Layton
!
Fans and collectors will also be able to store their collection in a custom designed collector's album which contains an exclusive promo card.

Archive Box Contents:
All 7 Autograph Cards
17 Random Base Cards
9 Iron Man Archive Chase Cards
9 Casting Call Chase Cards
9 Armored Hero Chase Cards
1 Sketch Card
17 Costume Cards
3 Iron Man Prop/Relic Cards
Product Configuration

• 9,000 Boxes
• 12 boxes per case
• 24 packs per box
• 5 cards per pack
• SRP: $3.50 per pack

Iron Man, the Movie © 2008 MVL Film Finance LLC. Marvel, Iron Man, all character names and their distinctive likenesses:TM & © 2008 Marvel Entertainment, Inc. and its subsidiaries. All Rights Reserved.