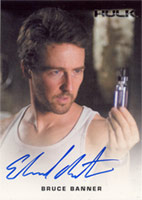 Scientist Bruce Banner (Edward Norton) desperately hunts for a cure to the gamma radiation that poisoned his cells and unleashed the unbridled force of rage within him:
The Hulk
.
Living in the shadows -- cut off from a life he knew and the woman he loves, Betty Ross (Liv Tyler) -- Banner struggles to avoid the obsessive pursuit of his nemesis, General Thunderbolt Ross, and military machinery that seeks to capture him and brutally exploit his power.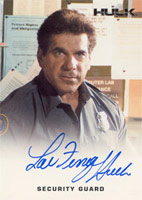 As all three grapple with the secrets that led to The Hulk's creation, they are confronted with a monstrous new adversary known as The Abomination, whose destructive strength exceeds even The Hulk's own!
This "Incredible" set features 2 different autograph cards signed by Edward Norton (as Bruce Banner) and Lou Ferrigno (as the Security Guard), plus 6 different costume cards with materials worn by Norton, Liv Tyler (Betty Ross), William Hurt (General Ross), Tim Roth (Emil Blonsky), Tim Blake Nelson (Samuel Sterns) and Ty Burrell (Leonard Samson), plus a sequentially numbered card depicting "The Incredible Hulk" movie poster. This edition will be limited to 375 numbered sets.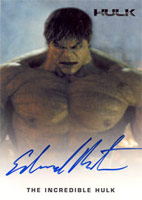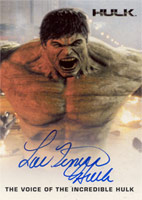 As an added bonus, for every 3 sets purchased, you will receive FREE alternate version autographs signed by Edward Norton (as the Hulk) and Lou Ferrigno (as the voice of the Hulk). Both alternate version autograph cards will depict images of the Hulk. There will only be 125 of each of these alternate version autographs made.



The Incredible Hulk, the Movie © 2008 MVL Film Finance LLC. Marvel, The Incredible Hulk, all character names and their distinctive likenesses:
TM & © 2008 Marvel Entertainment, Inc. and its subsidiaries. All Rights Reserved.