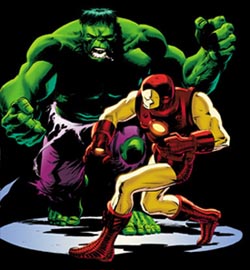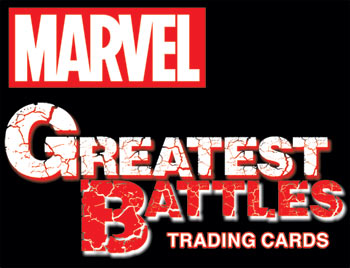 2-Card Sketch Puzzle in Every Box!

For the first time ever, every Marvel Greatest Battles trading card box is guaranteed to contain a 2-card sketch puzzle. Every sketch card puzzle will feature at least 2 different characters, making this the most ambitious series of Marvel trading cards ever produced. Look for 2-card sketch puzzles of Spider-Man vs. Green Goblin, Hulk vs. Thing, Hulk vs. Wolverine, Spider-Man vs. Venom, Rogue vs. Ms. Marvel, Fantastic Four vs. Dr. Doom, Bullseye vs. Daredevil, Captain America vs. Red Skull, Iron Man vs. Mandarin, Thor vs. Loki, Wolverine vs. Sabretooth and more!

Artists include Mick Glebe, Matt Glebe, Rhiannon Owens, Matias Streb, Pablo Marcos, Anthony Tan, Andy Price, Cezar Razek, Charles Hall, John Haun, Joshua Flower, Studio Mia, Jon Hughes, Adam Cline, Joe Pekar and many more. COMPLETE SKETCH ARTIST LIST
Inside each box, collectors will also find an exciting assortment of chase cards sets including:
18-Card Avengers vs X-Men Set (1:12 packs)
9-Card Battle Scars (1:12 packs)
9-Card Gold Plastic (1:24 packs)
90-Card "Red" Parallel Base Set (1:3 packs)
90-Card "Gold" Parallel Base Set (Each card sequentially numbered to 75) (1:24 packs)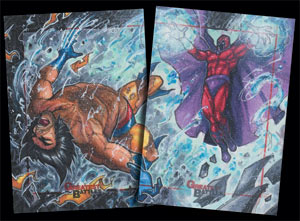 6-Case Incentive:
A 2-card puzzle sketch featuring the work of Meghan Hetrick!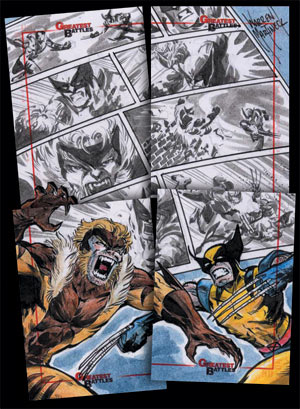 9-Case Incentive:
A 4-card puzzle sketch featuring the work of Warren Martineck!
18-Case Incentive:
Marvel Greatest Battles Archive Box! Includes:
10 two-card sketch puzzles, a 90-card Base Red Parallel set, 18 Avengers vs X-Men cards,
9 Battle Scars cards, 9 Gold Plastic cards and
2 Case Topper Cards.
(Incentive Cards Not Included)

TM & © 2013 Marvel & Subs.