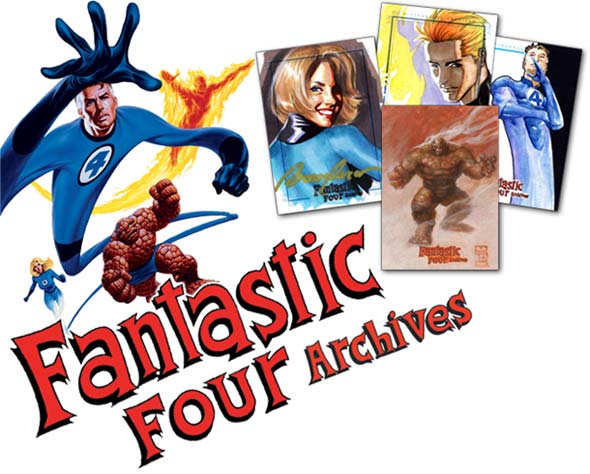 (From Left to Right: Felipe Massafera, Lui Antonio, Al Stefano and Bard)
This comprehensive trading card collection will cover all of the key storylines from the Fantastic Four books starting with issue #1 from 1961 all the way to #561 from 2008!
Each box of this set will feature 1 Hand-drawn and Colored Sketch Card from over 55 different artists. Below is the list of artists that have agreed to participate in this trading card set so far.


As a SUPER ADDED BONUS, look for hand-drawn sketch cards from both industry legends and today's top comic book artists. These Black and White sketch cards will be randomly inserted as a bonus card along side the colored sketch card in the box. Here is just a small list of artists that have agreed to provided some of these very limited edition cards. We hope to continue to add artists as we get closer to the release date.
(List of artists subject to change without notice.)
• Ryan Cody (5)
• Shane Coleman (2)
• Ben Glendenning (6)
• Jim Hanna (4)
• Scott Rosema (5)
• Michael Maker (1)
• Bill Mitchell (1)
• Albert Morales (5)
• George Pflaumer (2)
• Jeff Pi�a (2)
• Jeffrey Thorne (4)
• Carly Wagner (3)
• Daniel B. (4)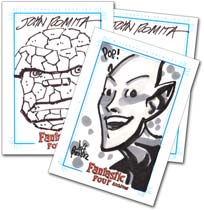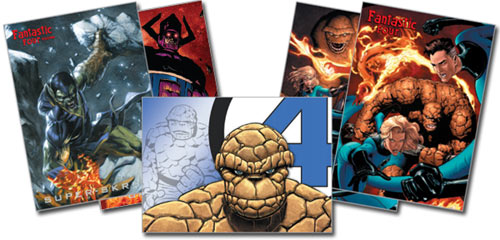 Rounding out the chase cards are several exciting sets including :

• 9-Card Nemesis Set (1:8 packs)
• 18-Card Ready for Action Set (1:12 packs)
• 9-Card Legendary Heroes Set (1:24 packs)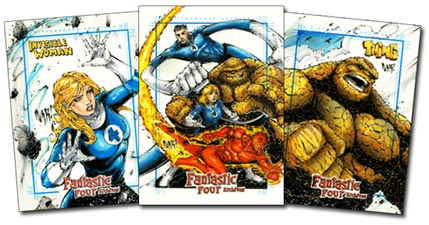 Each case will come with an exclusive all-new poster featuring the first 100 issues of The Fantastic Four.
For every four cases purchased you will receive an hand-painted with oils cards by Bard.
For every ten cases purchased you will receive an sketch card drawn by Nar!
For every twenty-five cases purchased you will receive a Fantastic Four Archives Archive Box. Each Archive Box contains twenty-five random sketch cards, each from a different artist. We have also included "Hidden" Archive boxes within the product as well, so keep your eyes open for the bright orange sticker on the inside bottom of your box. Fans and collectors will also be able to store their collection in a custom designed collector's album which contains an exclusive promo card.



MARVEL, The Fantastic Four: TM & � 2008 Marvel Characters, Inc.
Super Hero(es) is a co-owned registered trademark
All Rights Reserved. Licensed by Marvel Characters, B.V.