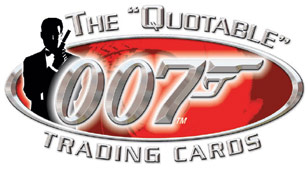 "Do you expect me to talk?" - James Bond
"No, Mr. Bond. I expect you to die!" - Auric Goldfinger
Rittenhouse Archives presents "The Quotable James Bond". An all new 100-card series featuring the classic quotes from all 20 James Bond movies. This set will feature all-new images of James Bond, his nemeses and the lovely ladies for which 007 films are known. Each card will feature a classic quote and image on both the front and back allowing for
200
quotes and images in all!
Each box will contain 40 packs of cards, and each pack will contain five cards. Collectors will be happy to note that each box is guaranteed to contain at least one 100-card base set and 2 Autograph Cards! Signers for this series are top-notch and include James Bond himself Roger Moore! Other signers include Michelle Yeoh (Wai Lin in "Tomorrow Never Dies"), Sophie Marceau (Elektra King in "The World Is Not Enough"), Carey Lowell (Pam Bouvier in "Licence To Kill"), Mollie Peters (Patricia Fearing in "Thunderball"), Serena Scott-Thomas (Dr. Molly Warmflash in "The World Is Not Enough"), Martine Beswick (Paula Caplan in "Thunderball") and others!
Rounding out this series are a number of chase cards collectors have been asking for. The first is a 10-card set entitled "The Quotable Theme Songs" found one in every 10 packs. Both the Bond villians and the Bond girls get their share of chase sets as well with a 20-card "Bond Villians" set found one in every 14 packs and 9 new "Bond Girls Are Forever" set featuring Elektra King, Jill Masterson, Paris Carver and others! These 9 Bond Girl cards will be exclusive to the North American cases. In the International Cases, collectors will find 9 "Villians & Vixens" cards. These nine cards form a montage of the various Villians on the front and the Vixens on the back that Bond has faced over the years.
An exclusive The Quotable James Bond collectors album will also be available and contains 15 plastic sheets plus an exclusive "From the Archives" costume card of Julian Glover as Aristotle Kristatos from "For Your Eyes Only."
Set Configuration:

100 Base Cards
5 Cards Per Pack
40 Packs Per Box
12 Boxes Per Case
SRP: $2.10 per pack