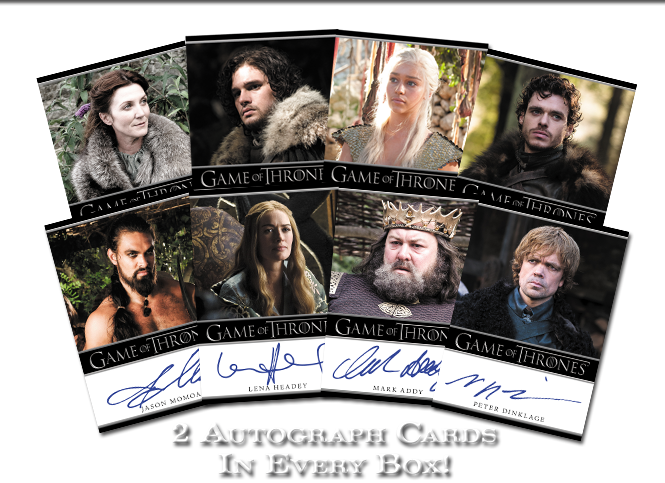 Rittenhouse Archives is pleased to announce Game of Thrones Season One Trading Cards
with autograph signers including the following characters:

72-Card Base Set, featuring detailed plot synopses for all 10 season
one episodes, and biographies for more than 40 different characters!
Plus several exciting bonus sets!

Set Configuration: 5 Cards Per Pack, 24 Packs Per Box, 12 Boxes Per Case
Tyrion Lannister (played by Peter Dinklage)
Queen Cersei Lannister (played by Lena Headey)
Jon Snow (played by Kit Harington)
Lord Eddard Stark (played by Sean Bean)
Daenerys Targaryen (played by Emilia Clarke)
Littlefinger (played by Aidan Gillen)
Theon Greyjoy (played by Alfie Allen)
Ser Jaime Lannister
(played by Nikolaj Coster-Waldau)
King Robert Baratheon (played by Mark Addy)
Lady Catelyn Stark (played by Michelle Fairley)
Robb Stark (played by Richard Madden)
Tywin Lannister (played by Charles Dance)
Khal Drogo (played by Jason Momoa)
Joffrey Baratheon (played by Jack Gleeson)
Ros (played by Esme Bianco)
... and many more!