1 Autograph Card in Every Pack!
5 Autograph Cards in Every Box!
1 Metal Autograph Card in Every Case!

(Numbered to 55 each)


Partial List of Signers:
All Autographs Signed On-Card
Daenerys Targaryen (Played by Emilia Clarke)
Sansa Stark (Played by Sophie Turner)
Mance Rayder (Played by Ciáran Hinds)
Cersei Lannister (Played by Lena Headey)
Lyanna Mormont (Played by Bella Ramsey)
King Aerys II Targaryen (Played by David Rintoul)
The Mountain (Played by Hafpor Julius Björnsson)
Lord Varys (Played by Conleth Hill)
King Robert Baratheon (Played by Mark Addy)
Melisandre (Played by Carice Van Houten)
Jon Snow (Played by Kit Harington)
Eddard Stark (Played by Sean Bean)
Grey Worm (Played by Jacob Anderson)
The Hound (Played by Rory McCann)
Lady Talisa Stark (Played by Oona Chaplin)
Bronn (Played by Jerome Flynn)
Ygritte (Played by Rose Leslie)
Littlefinger (Played by Aidan Gillen)
Daario (Played by Michiel Huisman)
Edmure Tully (Played by Tobias Menzies)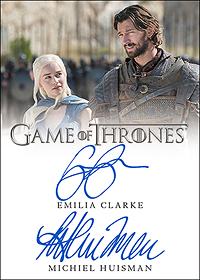 Look for
Dual Autograph Cards signed by
Emilia Clarke & Michiel Huisman!

Numbered to 33
LOOK FOR A SPECIAL BONUS HIT IN EVERY CASE:

ArtiFex Metal Art Cards

(#'d to 25 each)

or Hand-Drawn Sketch Cards
or Dragonglass Acetate Character Inserts

(#'d to 15 each)

The first 5 collectors to redeem a full set of Dragonglass insert cards
will receive a Dragonglass autograph card signed by Lena Headey!
Set Composition:
Base set features 99 cards, with 3 cards each of 33 different characters.

Bonus sets include:
86 The Saga of Daenerys Targaryen Cards
22 The Saga of Ned Stark Cards
99 Red Foil-Stamped Parallel Base Cards

(#'d to 50 each)

24 Dragonglass Acetate Character Cards

(#'d to 15 each)

12 Artifex Metal Cards

(#'d to 25 each)

27 Faces of War Cards

(#'d to 75 each)

36 Artist Rendition Cards

(#'d to 75 each)

36 Memorable Duos Cards

(#'d to 75 each)

10 JJ Lendl Episode Poster Cards

(#'d to 75 each)

10 JJ Lendl Artist Signed Episode Poster Cards

(#'d to 25 each)

Hand-Drawn Sketch Cards by renowned artists, including Westley Smith,
Roy Cover, Wei Ho, Steven Miller, Jay Manchand, and more (1:3 Cases)
Sapphire 1/1 Parallel Sets
86 The Saga of Daenerys Targaryen Cards
22 The Saga of Ned Stark Cards
27 Faces of War Cards
36 Artist Rendition Cards
36 Memorable Duos Cards
10 JJ Lendl Episode Poster Cards
Pack Inserted Printing Plate Sets
The Saga of Daenerys Targaryen Cards
The Saga of Ned Stark Cards
Artist Rendition Cards
JJ Lendl Episode Poster Cards
Case Topper (One Per Case)

3-Card Artifex Metal Set - Map of Westeros Puzzle by artist Warren Martineck