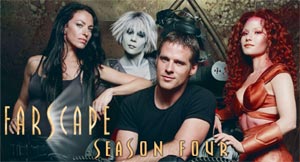 Sci-Fi channel's hit show returns to trading cards, with
Farscape Season Four
based on the fourth full season of Farscape, the hottest sci-fi show over the past 3-1/2 years. This time around each box will contain 2 autograph cards and 1 costume card in every box with a limited production run of only 6,000 boxes!
This years exciting autograph card line-up is lead by some of the great recurring stars such as Melissa Jaffer as Noranti, Raelee Hill as Sikozu, Rebecca Riggs as Commandant Mele-On Grayza, David Franklin as Braca, Lani John Tupu as the voice of Pilot and more!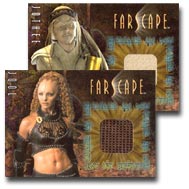 Farscape Season 4 trading cards also return with several fan favorite subsets including 22 "The Quotable Farscape" cards, 22 "Behind-the-Scenes with David Kemper" cards and at least 4 different costume cards. This years costume cards are all new featuring costumes from Jool, Jothee, Grayza and Lt. Braca!
New chase sets for this series are "Farscape ArtiFex ™ cards" which is original Farscape Art created by Virginia Hey and "Farscape Gallery Film cards" featuring your favorite misfit crew members!
Each box of Farscape Season Four will contain 40 packs with a suggested retail price of $2.00 per pack and $80.00 per box. Each pack will contain 9 cards.
The will also be a custom designed collector's album which will retail for $39.99, and contain an exclusive costume card from Moya.
Farscape Season Four Trading Cards will be available in April 2003!