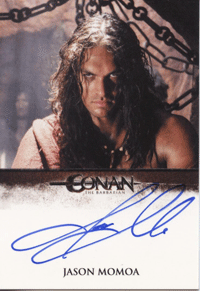 Rittenhouse Archives is pleased to announce 2011 Conan Movie Preview Trading Cards!

This limited edition run of only 300 sets includes 9 cards featuring an authentic autograph card signed by Jason Momoa (Conan), a Conan costume relic card and 7 Conan character cards.

Conan The Barbarian opens in theaters nationwide on August 19th. The film stars Jason Momoa (Conan), Rachel Nichols (Tamara), Stephen Lang (Khalar Zym), Rose McGowan (Marique) and Ron Perlman (Corin). For more details and to view the latest trailer for the film, visit the official Conan The Barbarian movie website at http://www.conanthebarbarianin3d.com/.

Photograph by Guy Roland

© 2011 Conan Properties International LLC ("CPI"). CONAN, CONAN THE BARBARIAN are registered trademarks of CPI. All rights reserved.
http://conanthebarbarianin3d.com