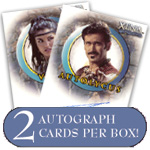 As with our past Xena sets, autograph cards lead the way with 2 autograph cards guaranteed per box. There will be 16 single autographs from such stars as Bruce Campbell as Autolycus, Tsianina Joelson as Varia, Jaqueline Kim as Lao Ma, William Gregory Lee as Virgil, Jay Laga'aia as Draco, David Franklin as Brutus and others. There will also be 6 dual autograph cards featuring Alexandra Tydings and Karl Urban as Aphrodite and Cupid, Renee O'Conner and Ted Raimi as Gabrielle and Joxer, Lucy Lawless and Ted Raimi as Meg and Joxer.

We've also created an entirely new line of autograph cards, with 6 autograph/costume cards. Lucy Lawless, Bruce Campbell, Victoria Pratt and Alexandra Tydings will be signing costume cards, which will be randomly inserted across the entire production run.

Chase sets abound in this series as well with 9 "Words from the Bard" found one in every four packs featuring the inspiring words of Gabrielle. "Forever Friends" is a 9 card set found one in every 10 packs depicting the eternal friendship between Xena and Gabrielle. Xena is at her best when she's fighting and we have two sets that showcase her warrior side. The first is "Xena In Motion", as 6-card lenticular set and the 6-card "Forged In The Heat of Battle" set both inserted one per box.

Each box of The Quotable Xena: Warrior Princess comes with 40 packs and each pack will contain six cards. Five of these cards will utilize the etchaFEX™ technology while the sixth parallel card will be printed on foil-board stock and will have a unqiue card number on the back.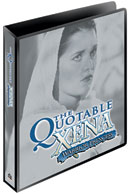 Finally, for those collectors looking to store their cards, Rittenhouse Archives has also produced a new custom Xena trading card album. Each album comes with 15 9-pocket plastic pages, a exclusive promotional card and an exclusive costume card featuring material worn by Lucy Lawless as Xena.
Xena from
"Soul Possession" (AC4)
Autolycus from
"Vanishing Act"(AC6)
Eli (AC7)
Aphrodite (AC8)
Cyane from
"Adventures In The Sin Trade" (AC9)
Xena from
"Royal Couple of Thieves"
(C14 - Binder)