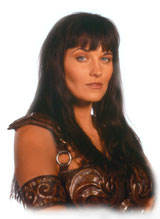 The biggest and best Xena: Warrior Princess trading card series is officially on the way! Featuring randomly inserted autographs from Lucy Lawless, Ted Raimi, Kevin Smith, Jennifer Sky and Claire Stansfield, this all-new series makes its debut on March 28th. The 72-card card base set includes photos and plot synopses from all 44 episodes of Seasons 4 and 5, as well as eye-popping subsets entitled "Warriors In Action," "Sisters In Arms" and "Faithful Argo." Only 10,000 boxes of this new Xena series will be produced exclusively by Rittenhouse Archives.

The excitement continues in several incredible levels of bonus cards, including 9 Xena Enemies (1:4 packs), 6 Xena Allies (1:9 packs), 9 Gabrielle: Battling Bard (1:20 packs), 9 Xena: Face of a Warrior (1:40 packs), 6 Xena: Undressed (1:80 packs) and 1 Xena: Warrior Princess (hand-numbered to 999, 1:480 packs), as well as the 5 autograph cards (1:80 packs).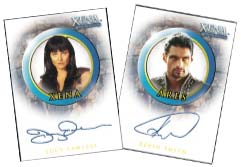 As a bonus to all case buyers, we have also included perhaps the ultimate Xena collectable card with a mounted piece of authentic costume material. This "From The Archives" authentic costume card will be inserted as a special case topper card with each 12-box case.
Every box of Xena: Warrior Princess, Seasons 4 and 5 Trading Cards comes complete with 40 packs of cards, and each pack contains 9 cards. Collectors who purchase a full and unopened box are guaranteed to receive a complete set of the 72 base cards.
Finally, of those collectors looking to store their cards, Rittenhouse Archives has also produced a custom Xena trading card album. Each album comes with 12 9-pocket plastic pages, a special Xena promotional card and an exclusive AUTOGRAPH CARD signed by Timothy Omundson (Eli). Binders will be limited to only 2,000.