The all new Xena: Dangerous Liaison trading cards will feature 2 Costume Cards Per Box! Collectors will be delighted to find both single and dual costume cards of their favorite Xena characters in this series with an all-new costume card design.


Single Costume Card
Dual Costume Card

Pao Ssu from "Purity"
Xena from "Adventure In the Sin Trade"
Gabrielle from "Married with Fishsticks"
Draco from "Comedy of Eros"
Caligula from "The God You Know"
Xena from "A Friend In Need"
Xena from "A Friend In Need"
Xena from "The Rheingold"
Xena from "Mortal Beloved"
Gabrielle from "When Fates Collide"
Virgil from "Who's Gurkhan"

Xena/Borias from "The Debt"
Xena/Caesar from "Destiny"
Demon Xena/Angelic Callisto from "Fallen Angel"
Xena/Cyane from "Adventure In the Sin Trade"
Xena/Gabrielle from "The Rheingold"
Discord/Autolycus from "Takes One to Know One"
Xena/Hercules from "Prometheus"
Xena/Autolycus from "The Royal Couple of Thieves"
Alti/Gabrielle from "Them Bones, Them Bones"
Xena/Gabrielle from "Fallen Angel"
Gabrielle/Aphrodite from "The Quill Is Mightier…"
The 72-card base set will cover all six seasons and focus on the many dangerous, deadly and enticing encounters Xena and Gabrielle have faced. This series also boosts some exciting chase sets as well. Randomly inserted into each box, collectors will find: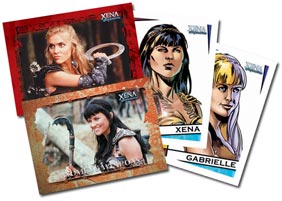 Xena Comic Characters - Images of your favorite Xena characters right from the comic book pages. (1:10 packs)
Women and Weapons - Xena was not only known for its powerfull women, but also for its equally dangerous weapons (1:20 packs)
Rise and Fall of the Warrior Queen - The retrospective look at the evolution of Callisto from revenge to redemption to reincarnation. (1:40 packs)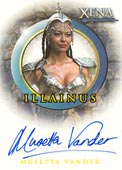 For each case purchase, collectors will receive a Musetta Vander as Illainus autograph card. For every 2 cases purchased, collectors will receive a quad-costume card featuring material from Xena, Gabrielle, Hercules and Ioalus. For every 3 cases purchased collectors will receive a dual autograph card signed by Lucy Lawless and Kevin Sorbo.
Each box of Xena: Dangerous Liaison comes with 40 packs and each pack will contain five cards with a suggested retail price $2.10.
Finally, for those collectors looking to store their cards, Rittenhouse Archives has also produced a new custom Xena trading card album. Each album comes with 12 nine-pocket plastic pages, a exclusive promotional card and an exclusive dual costume card featuring Gabrielle and Ioalus.