Xena is known for its beautiful and powerful women and the men who love or hate them. Now Rittenhouse Archives showcases these memorable characters in their all new Xena: Beauty and Brawn card set.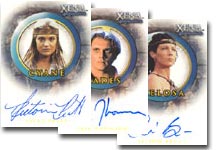 This 72-card set will be printed on Silver Gemkote™ Reflective paper stock and features 1 autograph and 2 costume cards per box! Fans can look for autograph cards signed by Vicky Pratt as Cyane, Jeremy Callaghan as Pompey, Darien Takle as Cyrene, Erik Thomson as Hades, Meg Foster as Hera, Marie Matiko as both K'ao Hsin and Pao S'su and more!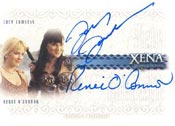 Collectors should also keep an eye out for two different dual-autograph cards. The first signed by Lucy Lawless and Renee O'Connor as Xena and Gabrielle and the other signed by Hudson Leick and Renee O'Connor as Callisto and Hope. These cards are the "good" versus "evil" and continue the theme of duality.

This set boasts the most costume cards Rittenhouse Archives has ever done in a set and these aren't your standard costume card either. We have included three levels of costume cards; single costume cards, double costume cards and autographed costume cards! The dual costume cards contain either two pieces of material from a single costume (i.e.: Pants and shirt) or material from two different costumes from the same episode (i.e.: Xena Heavenly costume and Gabrielle's Archangel costume from "Fallen Angel"). Autographed costume cards are a Rittenhouse Archives first and will be signed by Claire Stansfield as Alti, Megan Desmond as Discord and Hudson Leick as Callisto!
Click Here for images of some of the actual costumes used for the costumes cards.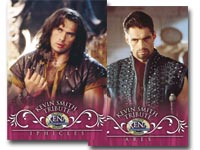 Beyond the costume and autograph cards fans will find several chase sets to increase the excitement. First is the Footsteps of a Warrior that allows fans to follow in Xena's footsteps as she travels across the globe. These cards can be found one in every four packs. Next is the Amazon Warrior set found one in every ten packs that spotlights some of the great Amazon Warriors including Cyane, Ephiny, Melosa, Varia, Velasca and more. In a tribute to the late Kevin Smith, a great actor and an essential part of not only Xena but Hercules as well, we have included a 9-card Kevin Smith Tribute set that covers his career on these two great shows.
To top off these great chase subsets is the two-card Beauty and Brawn set found 1 in every 480 packs. These special cards will be printed on plastic using metallic inks and will be individually numbered.
Finally, for those collectors looking to store their cards, Rittenhouse Archives has also produced a new custom Xena trading card album. Each album comes with 12 9-pocket plastic pages, a special Xena promotional card and an exclusive autograph card signed by Brittney Powell as Brunnhilda.