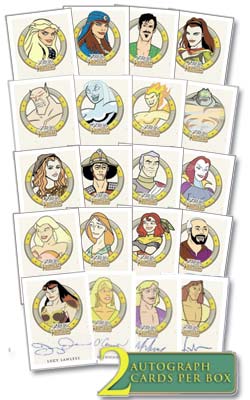 The all new Xena and Hercules: The Animated Adventures trading cards will feature 2 Autograph Cards Per Box of your favorite Xena and Hercules stars in a way you have never seen them before, ANIMATED! Autographers include Lucy Lawless, Kevin Sorbo, Renee O'Connor, Michael Hurst, Hudson Leick, Alexandra Tydings, Josephine Davison, Ted Raimi, Bruce Campbell, Paris Jefferson, Danielle Cormack and more!

While the 72-card base set will cover the animated movie "Battle for Mount Olympus", it is the chase sets that will take fans to a whole new world. This fantastic series takes Xena and Hercules beyond Mount Olympus and into new adventures thanks to the talented artwork of John Czop. Many of the mythical beasts, evil nemeses and faithful friends have been added to this wonderful animated world. More details on chase sets will be released in the coming months are we continue to expand and explore the animated world of Xena and Hercules.

Each box of Xena and Hercules: The Animated Adventures comes with 40 packs and each pack will contain five cards with a suggested retail price $2.10.

Finally, for those collectors looking to store their cards, Rittenhouse Archives has also produced a new custom Xena trading card album. Each album comes with 12 nine-pocket plastic pages, a exclusive promotional card and an exclusive autograph card signed by Robert Trebor as Salmoneus.