Details
Released:
09.22.2010

Season One Trading Cards
Rittenhouse Archives proudly presents WAREHOUSE 13: Season One Trading Cards, coming in September 2010. This premiere edition series will feature all of the mysteries and adventures of Special Agents Pete Lattimer, Myka Bering, Artie Nielson and more from every episode of the show's first season. Each box will contain at
least 2 autograph cards and 2 artifact (costume) cards, along with a complete set of base cards and other assorted bonus cards.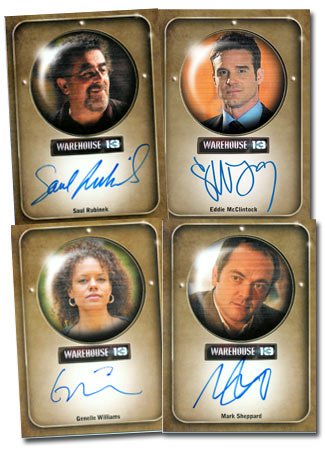 Autograph card signers include:
Series Stars

Eddie McClintock (Pete Lattimer)
Joanne Kelly (Myka Bering)
Saul Rubinek (Artie Nielsen)
Genelle Williams (Leena)
Simon Reynolds (Dickinson)

Guest Stars

Tricia Helfer (Agent Belski)
Joe Morton (Reverend Hill)
Michael Boatman (Professor Marzotto)
Michael Hogan (Warren Bering)
and many more!
Each box of the Warehouse 13 Season One Trading cards will contain 2 artifact (costume) cards in each box from Peter Lattimer, Myka Bering, Artie Nielsen, Claudia Donovan, Leena and others.
Each case will come with a Artificat Costume Card of Alessandro Volta's Lab Coat from the episode "Regrets".
For every three cases purchased you will receive an autograph costume card signed by Eddie McClintock (Pete Lattimer).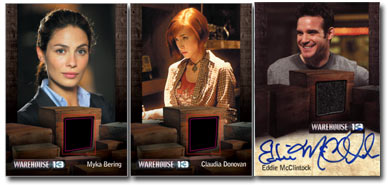 Fans and collectors will also be able to store their collection in a custom designed collector's album which contains an exclusive promo card.