Set Configuration: 5 Cards Per Pack, 24 Packs Per Box,
12 Boxes Per Case

TM & © 2014 CBS Studios Inc. All Rights Reserved

(Checklist subject to change without notice)
2 Autograph Cards and 1 Relic Card Per Box!


Autograph signers include:
Rachelle Lefevre (Julia Shumway)

Britt Robertson (Angie McAlister)
Jeff Fahey (Sheriff Duke Perkins)
Jolene Purdy (Dodee Weaver)
Aisha Hinds (Carolyn Hill)
Natalie Martinez (Deputy/Sheriff Linda Esquivel)
Mike Vogel (Dale "Barbie" Barbara)
Samantha Mathis (Alice Calvert)
Leon Rippy (Ollie Dinsmore)
Nicholas Strong (Phil Bushey)
Ned Bellamy (Reverend Lester Coggins)
and many more!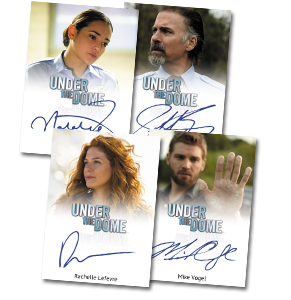 81-Card Base Set, featuring photos and detailed plot synopses for all 13 Season One episodes!

Plus numbered GOLD base parallel cards, "Domed" Die-Cut UTD Stars cards, Quotable UTD cards and more!

INCENTIVES:
3-Case Incentive:
Silver Signature Series Autograph Card Signed by Britt Robertson (Angie McAlister)


6-Case Incentive:
Silver Signature Series Autograph Card Signed by Mike Vogel (Dale "Barbie" Barbara)


18-Case Incentive:
UNDER THE DOME: Season One Trading Cards Archive Box, including exclusive Silver Signature Series Autograph Card Signed by Rachelle Lefevre (Julia Shumway)