Twilight Zone: Science and Superstition Trading Cards
Twilight Zone Series 4 Update

For the sake of clarification, there are only a total of 5 (five) Rod Serling Cut Signature Cards created for the just-released series of Twilight Zone Series 4: Science and Superstition Trading Cards. Also, to avoid any confusion, none of these 5 cards are included with any of the Archive Boxes associated with this product, since there are more Archive Boxes than there are Rod Serling Cut Signature Cards. We apologize for any confusion over this matter.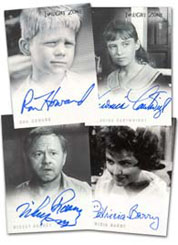 We are pleased to announce that the all-new Twilight Zone: Science and Superstition (Series 4) Trading Cards will be released on February 2, 2005, and features an incredible FOUR(!) AUTOGRAPH CARDS PER BOX from 31 different signers! Signers include Ron Howard, Mickey Rooney, Sydney Pollack, James Doohan, Arte Johnson, Orson Bean, Russell Johnson, Judy Strangis, Anne Francis, Patricia Barry, Joanne Linville, Natalie Trundy, Veronica Cartwright, Alan Sues and more.
The 72-Card sase set will feature 12 classic episodes including
The Last Night of a Jockey
,
Mr. Bevis
,
The Bard
,
The Passerby
,
Dead Man's Shoes
,
Back There
,
The Purple Testament
,
A Piano in the House
,
Night Call
,
A Hundred Yards Over the Rim
,
The Midnight Sun
and
The Fugitive
. Also included in this series are
18 The "Quotable" Twilight Zone Cards (1:7 packs)
,
9 Twilight Zone Stars Cards (1:14 Packs)
and
8 Twilight Zone Hall of Fame Cards (1:100 packs)
each Hand-Numbered to 333!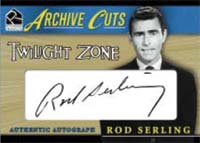 Sure to be the most sought over chase card however will be the Archive Cuts™ Rod Serling "Cut Signature" Relic Card. that can be found 1:100,000 Packs!
There will also be an exclusive case topper SketchaFex™ card of Robbie The Robot ("The Brain Center at Whipple's) and a multi-case SketchaFex™ card of The Gremlin ("Nightmare at 20,000 Feet" starring William Shatner). Both SketchaFex™ cards have been drawn by renowned artist Cris Bolson.