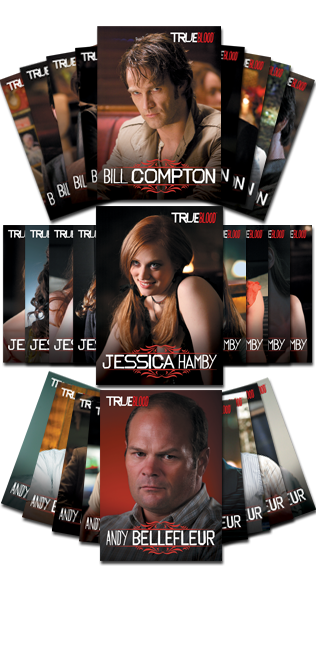 SERIES 2
BILL COMPTON
JESSICA HAMBY
ANDY BELLEFLEUR

We're pleased to announce our all-new TRUE BLOOD Legends Series 2 trading cards! Each series of TRUE BLOOD Legends will feature 3 characters, with 9 cards per character, for a total of 27 cards. Series 2 features Bill Compton (Stephen Moyer), Jessica Hamby (Deborah Ann Woll) and Andy Bellefleur (Chris Bauer)! Series 1 featuring Sookie Stackhouse (Anna Paquin), Sam Merlotte (Sam Trammell) and Hoyt Fortenberry (Jim Parrack) is also still available, if you wish to order that, too. If you order both together, you will receive matching numbered sets.

Also look for our TRUE BLOOD Legends trading card album to store each and every new series!
COMING SPRING 2013


Official HBO Licensed Product. © 2013 Home Box Office, Inc. All Rights Reserved.
HBO and related trademarks are the property of Home Box Office, Inc.