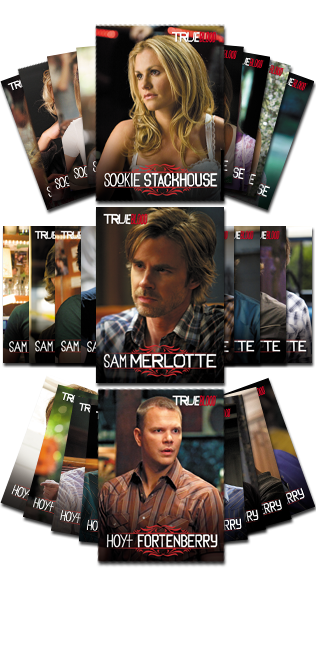 SERIES 1
SOOKIE STACKHOUSE
SAM MERLOTTE
HOYT FORTENBERRY

Rittenhouse Archives is pleased to announce the first series of TRUE BLOOD Legends Trading Cards! Each series will feature 3 characters, with 9 cards per character, for a total of 27 cards. Series 1 will include Sookie, Sam and Hoyt!
In addition, we are offering a custom-designed TRUE BLOOD Legends Collector's album to store each series of cards. Each album will come with an exclusive, bonus promotional card.
COMING FALL 2011


Official HBO Licensed Product. © 2011 Home Box Office, Inc. All Rights Reserved.
HBO and related trademarks are the property of Home Box Office, Inc.