The Best of The Wild Wild West Season One Trading cards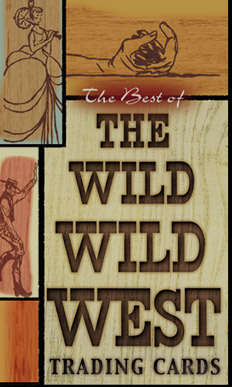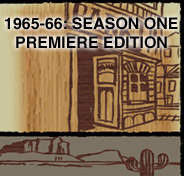 Rittenhouse Archives is pleased to announce its release of the first-ever series of trading cards based on the classic TV show "The Wild Wild West" starring Robert Conrad as James T. West and Ross Martin as Artemus Gordon. This inaugural series, "The Best of The Wild Wild West, 1965-66 Season One," takes a retrospective look back at the best episodes of the show's first year on the air, when all of its episodes were filmed exclusively in black and white. For autograph fans, this series is a smash-hit, with hand-signed cards from Robert Conrad, Don Rickles, Yvonne Craig, Richard Kiel, BarBara Luna, Sigrid Valdis, Sue Ane Langdon, and many more. There promises to be an average of 2 autographs per box (1 guaranteed) across the entire run of 4,000 boxes. Each box also comes complete with a sequentially numbered, limited edition sticker-seal.
The base set consists of 100 cards, with different photos on the fronts and backs. Virtually all of the photography in the set has been culled from remastered copies of the original master film reels, and nearly all of the photos have never before been published! Bonus cards, in addition to the autographs, include 9 "Vintage West" cards depicting Robert Conrad at his heroic best; 9 "Master of Disguise" cards showcasing Ross Martin in many of his fabulous disguises; and 2 "Commemorative" cards honoring the late Martin and guest star Michael Dunn, the diminutive Dr. Loveless.
Among the 100 base cards, a total of 11 episodes are featured, each in a 9-card subset. All 4 of the Dr. Loveless episodes from season one have been presented as a special tribute to the most popular villain in the show's 4-year run.

"The Best of The Wild Wild West, 1965-66 Season One" made its debut on August 30, 2000, nearly 35 years after the show made its debut on CBS. Fans and collectors may purchase complete sets of the base cards, complete boxes and sealed cases directly from the factory through www.scifihobby.com. As an added bonus for those purchasing sealed cases (12 boxes), Rittenhouse has included a special 5-card bonus set, with each card hand-numbered 1-999. The 5 bonus cards show off the progression of action in the show's opening cartoon sequence, a must for any serious fan or collector!