"Live Long and Prosper" or "Space…The Final Frontier." Ask almost anyone in the world where this quote comes from and you will get the answer "Star Trek, of course". No other TV show has created more memorable quotes and phrases that have permeated our culture and language as Star Trek. Now Rittenhouse Archives has gathered more than 200 of the most memorable quotes uttered by Kirk, Spock, McCoy and more and captured them our newset trading card set
The Quotable Star Trek: Original Series
.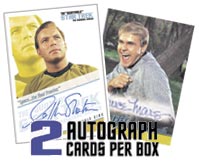 Each box of The Quotable Star Trek: Original Series comes with at least 2 autograph cards! Signers include all living bridge crew members: Shatner, Nimoy, Doohan, Takei, Nichols, Koenig and Barrett on an all-new autograph card design. Plus, we have resurrected the classic TOS autograph card design that was introduced in the TOS season collections (1997-1999). New signers for this classic autograph design, which picks up at A86, include Bruce Mars (Finnegan), Julie Newmar (Eleen), Sally Kellerman (Dr. Dehner), Sean Kenney (Capt. Pike), Don Marshall (Lt. Boma) and many others, which will bring the classic autograph collection beyond 100 cards! Each box will contain 40 packs with 7 cards per pack and each box is guaranteed to contain at least one 110-card base set.
Bonus cards for this incredible series include:
The "Quotable" Star Trek: The Animated Series Cards
The "Quotable" Star Trek: The Comic Book Cards
Collectable TV Guide Cover Cards
Starfleet's Finest, Limited Edition Cards
Captain Kirk/"Where No Man Has Gone Before" costume card (North American case topper).
Yeoman Rand costume card (International case topper).
A Custom-designed album to store the entire collection, including plastic pages, bonus promo card and a Scotty "From the Archives" costume card is also be made available in limited quantities.