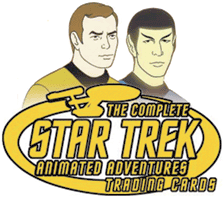 Prepare to be beamed aboard one of the most interesting Star Trek trading card sets in years,
The Complete Star Trek: Animated Adventures Trading Cards
! There has never before been a full series of cards dedicated to this all-time classic TV cartoon series, which aired in 1973-74. This 198 card series will cover all 22 episodes, with 9 cards per episode printed on 20 point stock with high "wet" gloss UV coating.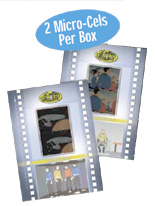 Expanding this huge base set will be several chase levels to highlight the true uniqueness of this animated show. First is the James Doohan Tribute found one in every 4 packs which features all of the great characters that Mr. Doohan provided voices for. Next is the The Enterprise Bridge Crew found one in every 8 packs. Sure to be a hit is the Captain Kirk IN MOTION™ lenticular cards found one in every 20 packs. The most unique chase card will be the Star Trek Micro-Cels featuring authentic pieces of film. There are 22 different cards, one for each episode and each card will contain two unique pieces of actual series film. No two card will be exactly alike. Collectors will find two of these cards in their 40 pack count boxes.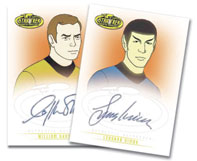 Of course no Star Trek set would be complete without authentic hand-signed autograph cards and this set is no different. This set features ONE AUTOGRAPH PER BOX from William Shatner (Captain Kirk), Leonard Nimoy (Mr. Spock), Nichelle Nichols (Lt. Uhura), Majel Barret (Nurse Chapel), James Doohan (Scotty and Lt. Arex), George Takei (Lt. Sulu) and more!
As an added bonus, each box will have one of five unique die-cut shaped CD-ROMS featuring exclusive Star Trek: Animated content including screen savers, wall papers, history of the show and an exclusive interview with DC Fontana. These CD-ROMS will not be available anywhere else.
Collectors will also have a chance to win original production cels used in the making of these classic episodes as well as limited edition sericels. Look for instant winner cards to win one of 50 different original production cels used in the making of the original Star Trek animated TV series. Each of these cards will be unique with an image of the cel that you have won. Also look for instant winner cards to win one of 250 sericels featuring the U.S.S. Enterprise NCC-1701 or one of 250 sericels featuring Captain Kirk and Mr. Spock.
A must for any Star Trek Connoisseur!!!!