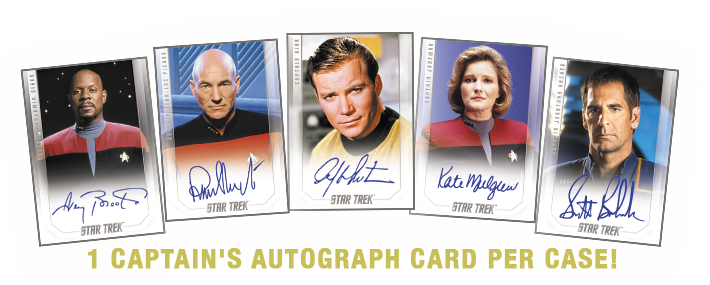 100-Card Foil-Etched Base Set


100 GREATEST MOMENTS IN STAR TREK
TV AND MOVIE HISTORY IN ONE COMPLETE SET!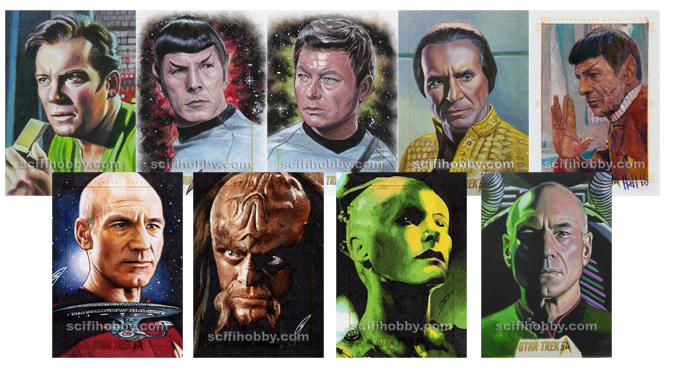 Other BONUS Sets Include:
Star Trek Heroes
- 50 Cards
50-card, metal set, featuring the 50 greatest heroes in Star Trek history!
Star Trek ArtiFex
- 50 Cards
50-card set featuring original portraits by renowned portrait artist Emily Tester!
Star Trek ArtiFex Originals
- 50 Cards
The original portraits by Emily Tester were specifically commissioned in trading card format, and each original, one-of-a-kind, original piece of art will be randomly inserted for lucky collectors to find! A chance to own a piece of history!
Star Trek Tech Evolution
- 9 Cards
Incredible 9-card set tracing the progression of phasers, tricorders and more
throughout the Star Trek timeline!
Ships of the Line
- 9 Cards
9-card set featuring every version of the
U.S.S. Enterprise,
as well as
Voyager
,
Deep Space Nine and more!
Starfleet Captains
- 18 Cards
18-card set depicting the lead characters of each Star Trek TV series, as well as several other key captains throughout the TV and movie mythology!
Star Trek Phaser Cut
- 10 Cards
Amazing 10-card set featuring the Captains and First Officers of the five TV series,
in a high tech format never before seen in any set of Star Trek cards!

Case Toppers:


Captain's Series Expansion - Captain Archer Card



6-Case Incentive:


The first-ever Relic Cards from the hull of the U.S.S. Enterprise



9-Case Incentive:




Dual Autograph Card Signed by William Shatner (Captain Kirk) and Patrick Stewart (Captain Picard)




18-Case Incentive:
STAR TREK 50th Anniversary Trading Cards
Archive Box, including an exclusive set of 4 Color
Printing Plates used to make the front of one
base set card!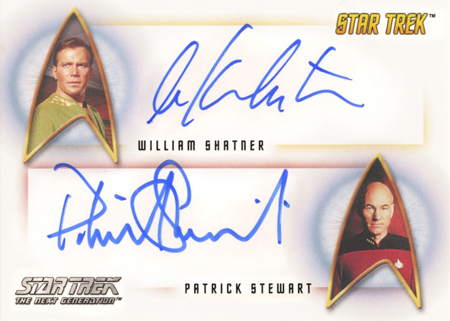 TM &amp © 2016 CBS Studios Inc. STAR TREK and related marks and logos are trademarks of CBS Studios Inc. All Rights Reserved.