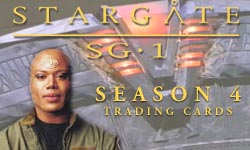 Following on the footsteps of 2001's sell-out premiere edition, Rittenhouse Archives presents Stargate SG-1 Season 4. This series is limited to only 8,000 sequentially numbered boxes and explores the fourth season of episodes in a dynamic 72-card set. Each episode will be highlighted on three cards with detailed plot synopsis on the backs.
In addition, Rittenhouse has added several exciting bonus levels, including 9 Goa'uld Technology; 4 Hereos in Action; 6 Dial-Us-Home; 5 "From the Archives" Costume cards; 9 Autograph cards signed by Amanda Tapping (Major Carter), Michael Shanks (Dr. Jackson), Carmen Argenziano (Selmak) Peter Wingfield (Tanith), Tom McBeath (Colonel Maybourne) and more! ONE AUTOGRAPH CARD AND ONE COSTUME CARD IN EVERY BOX!
A new Official Stargate SG-1 Season 4 Collector's Album will also be available, and each album will come complete with 12 plastic sheets and an exclusive autograph card signed by Erick Avari as Kasuf (he also appeared in the Stargate movie).
Plus, as an added bonus, each 12-box case of Stargate SG-1 Season 4 Trading Cards will contain a special, limited edition case topper "From The Archives" costume card of Major Samantha Carter. Only 667 cases (and case toppers) will be available!

Stargate SG-1 Costumes before they are cut up and made into cards.


| | | |
| --- | --- | --- |
| | | |
| C6 - General Hammond's costume from Season 3 episode Point of View | C8 - Colonel Maybourne's costume from Season 4 episode Chain Reaction | C12 - Samantha Carter's costume from Season 1 episode Emancipation |