SEASON ONE TRADING CARDS
A group of soldiers, scientists and civilians, fleeing an attack, find themselves stranded far from Earth on a mammoth Ancient ship known as the Destiny. They must live in the limbo of time and space, cling to the notion of hope, locked on an unknown course in search of home. Now the group's fates lie at the mercy of the ship as they face the challenges of meeting the most basic needs of food, water and air. Through the danger and adventures, some will be revealed as heroes, some will be shown as villains...and some won't make it out at all.
This fall recapture the excitement, the suspense and the danger from the first season of Stargate Universe. Stargate Universe: Season 1 Trading Cards will cover all 20 episodes of the first season as well as highlight the crew and the ship herself, Destiny. Each box will contain
3 Autograph Cards and 2 Costume Relic Card and limited to just 3,000 boxes!.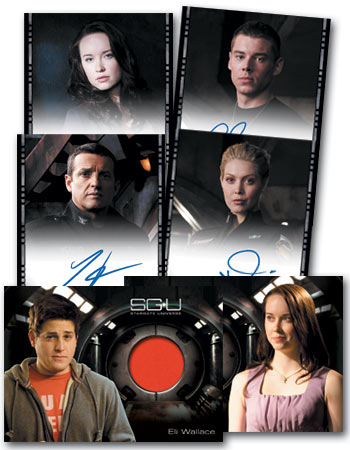 Signers include series stars:
David Blue as Eli Wallace
Alaina Huffman as Tamara Johansen
Elyse Levesque as Chloe Armstrong
Brian J. Smith as Matthew Scott
Jamil Walker Smith as Ronald Greer
Louis Ferrera as Colonel Everett Young
As well as series regulars and guest stars including:
Julia Benson as Vanessa James
Peter Kelamis as Adam Brody
Jennifer Spence as Lisa Park
Josh Blacker as Sgt. Spencer
Mark Burgess as Jeremy Franklin
Christina Schild as Andrea Palmer
Christopher McDonald as Senator Alan Armstrong
Haig Sutherland as Sgt. Hunter Riley
Patrick Gilmore as Dale Volker
Tygh Runyan as Caine
Ona Grauer as Emily Young
Reiko Aylesworth as Sharon
Inside each box, you will find at least 1 Costume Relic card, featuring authentic materials worn by stars of the show. Relics include materials from many key characters, inc Eli Wallace, Dr. Nicholas Rush, Ronald Greer, Tamara Johansen "TJ", Matthew Scott and Chloe Armstrong.
Rounding out the chase cards are several exciting sets including :

• 9 Quotable Eli cards (1:8 packs)
• 9 Destiny Crew cards (1:12 packs)
• 9 Lenticular cards (1:24 packs)

For every 3 cases that you order you will receive an exclusive autograph card signed by Lou Diamond Phillips as Colonel David Telford.
For every 6 cases that you order you will receive an exclusive hand-drawn sketch card by either Sean Pence or David Desbois.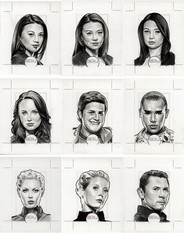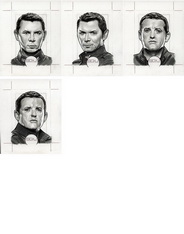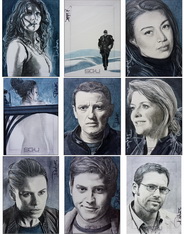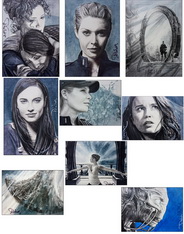 For every 12 cases that you purchase you will receive a Stargate Universe: Season 1 Trading Cards archive box.

Fans and collectors will also be able to store their collection in a custom designed collector's album which contains an exclusive promo card.


STARGATE UNIVERSE � 2010 MGM Global Holdings Inc.
STARGATE UNIVERSE and SGUare trademarks of Metro-Goldwyn-Mayer Studios Inc. All Rights Reserved.